Sauber's brake duct development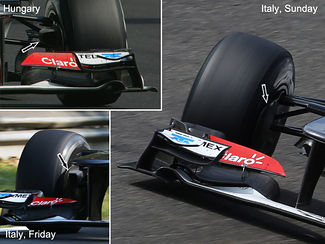 Sauber have been furiously at work to develop their car and keep up with the progress other teams are making throughout the season. Considering their pace at Spa-Francorchamps and Monza, that does not look like a problem for the Swiss team.
One of the updates used at Monza was a low drag front wing. Contrary to many other teams who ditched the cascading elements on the front wing, Sauber instead chose to apply minor modifications to the red part of their wing. Especially close to the front wing supports, the red element is curved to create less downforce than before and instead may be aimed at generating a vortex that can prove beneficial for downforce generation at the back of the car.
Interesting as well are the modifications to the front brake ducts. Before Spa, Sauber was using a vertical, carbon fibre fence close to the wheel with a conventional inlet, adapted in size to the cooling requirements of the specific circuit. At Spa, the team tried one of those with the inlet made of rapid prototyping material, bonded to the carbon fibre fence. However, a new ducting system was also tested, with the area between the tyre and the fence used as an inlet, dropping the oval shaped scoop. This design is very similar to what Williams and Ferrari are doing, but given that the team also tested the more traditional design on Friday at Monza, it remains to be seen if the scoop-less brake duct is to be retained for Singapore, where temperatures and cooling demands are usually higher.
The team have also brought new rear wings to both the Belgian and Italian GP. The Belgian version featured a slight W-shape of the leading edge while the Monza spec dropped that W-shape again and featured even less frontal area for reduced drag and downforce.