Sauber C31 Ferrari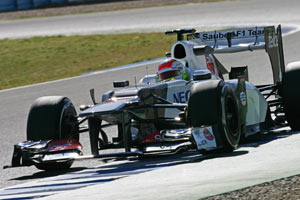 Active: 2012
Team: Sauber F1 Team

Team: James Key (TD), Matt Morris (CD), Seamus Mallarkey (HA), Giampaolo Dall'ara (Head of track engineering), Beat Zehnder (Team Manager), Monisha Kalterborn (CEO)
Drivers: Kamui Kobayashi (14), Sergio Pérez (15), Esteban Gutierrez (Reserve)
Sauber unveiled their C31 on track at Jerez, where later that day it underwent a shakedown before starting winter testing the day after that.
While the team lost its technical director James Key during the winter, it is unlikely to have played any role in the development of the C31, and will likely only affect the car of 2013. Therefore, at the launch it was Matt Morris, the team's new chief designer who was the technical head. He arrived halfway through 2011 after similar roles at Cosworth and WilliamsF1.
In its entirety, the car is an aggressive evolution of the C30, with carryovers mostly at the front of the car while the team have mainly focused to get the rear sorted out, creating narrower sidepods to allow a better airflow onto the diffuser and the beam wing. The exhausts on the Sauber are position quite forward, allowing the hot exhaust gases to get mixed with cooler air before they hit the suspension arms and the rear wing elements. The rear suspension itself meanwhile was also changed into a pullrod design, for benefits of rear airflow and lowering the car's centre of gravity.
Just like its predecessor though, the car is neat and very clean aerodynamically, the result of a car that came from a team with much less resources than any of the front running contenders. Sauber however showed before, both with the C29 as well as with the C30 that it is well capable of delivering a very decent car with a small team.
The full technical analysis can be found here: f1technical.net/news/17025. After the season, Race car engineering's Ian Bamsey spoke to Morris and Dall'ara to review the reasons for the strong package that C31 was.
Specifications
Chassis: carbon-fibre monocoque
Front suspension: upper and lower wishbones, inboard springs and dampers actuated by pushrods
Rear suspension: upper and lower wishbones, inboard springs and dampers actuated by pullrods
Dampers: Sachs Race Engineering
Brakes: six-piston brake callipers (Brembo), carbon-fibre pads and discs (Brembo)
Transmission: Ferrari 7-speed quick-shift carbon gearbox, longitudinally mounted, carbon-fibre clutch
Electronics: MES
Steering wheel: Sauber F1 Team
Tyres: Pirelli
Wheels: OZ
KERS: Ferrari
Dimensions
Length: 5.195 mm
Width: 1.800 mm
Height: 1.000 mm
Track width, front: 1.495 mm
Track width, rear: 1.410 mm
Weight: 640 kg (incl. driver, tank empty)
Engine
Designation: Ferrari 056
Configuration: Naturally aspirated V8, 90° cylinder angle
Engine block: sand-cast aluminium
Valves / valve train: 32 / pneumatic
Displacement: 2,398 cm³
Bore: 98 mm
Weight: > 95 kg
---
---