Williams fit Red Bull style exhaust ramp on FW35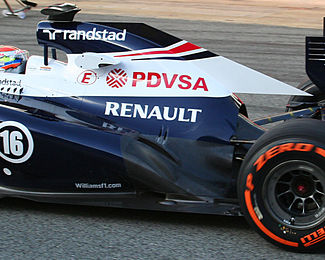 As was expected, Williams F1 have today changed their car by introducing a ramp style exhaust slope, similar to what Lotus F1 and Red Bull Racing are running, not coincidentally two teams that are also powered by a Renault Sport F1 engine. Along with the introduction of the new exhaust the team also re-fitted their high nose. It must be seen whether this is now the preferred choice in combination with the ramp exhaust, or if the team will continue to try out its different nose cones.
The team's exhaust ramp features a bulge around the exhaust exit, similar to what Red Bull has and also had a small inlet to get airflow underneath the ramp. The latter is however considerably smaller than on the competing team's cars.
Also notice the camera hub on the side of the airbox, including an infrared camera to visualize exhaust flow for the team's evaluation purposes.