Caterham brings first updates to CT03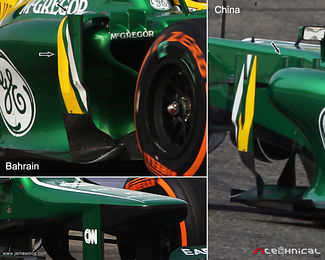 Caterham F1 have brought the first updates to their CT03 since the beginning of the season. The team urged a few updates as soon as it appeared that there were considerably issues with the car that would make it unable to put up a fight to any other team. The updates seem to have had an immediate effect, with Charles Pic saying after free practice that the team were to adjust the car set-up as the updates immediately brought in understeer thanks to increased downforce at the rear of the car. A more comprehensive number of updates will be added at the Spanish GP in 3 weeks time.
So far, the updates were only tried on Charles Pic's car, including a new bulkier nose that copies an idea pioneered by Lotus last year to help clean airflow underneath the high nose. Sauber and Force India are teams that have followed that trend before, with Red Bull trying it on last year's car as well.
Perhaps more importantly is the new Red Bull style panel aside of the sidepod. This greatly helps control how air ends up at the back of the car.