Toro Rosso implements own exhaust ramp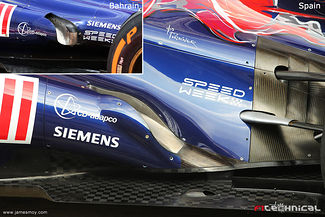 Toro Rosso have perhaps introduced the biggest update package of all teams at Barcelona, with the STR8 now being fitted with a new ramp style exhaust. The team have however not exactly copied any of the existing designs but instead opted to go their very own way and come up with a very special ramp.
Previously the team had an exhaust more similar to that of McLaren, but the new version should help draw the exhaust gases down better, or at least in a more controlled way. Just like with Lotus and Red Bull, the sidepod included an undercut that helps channel air underneath the sidepod onto the central part of the diffuser. The particular thing here is that Toro Rosso's channel is entirely open while all other versions feature a closed channel. As this is of course the initial version on the STR8, more development in this area is likely to appear in future races.
Feedback from the drivers is already positive, with both saying the car is much more stable and easier to setup.