Williams test 2012 parts on FW35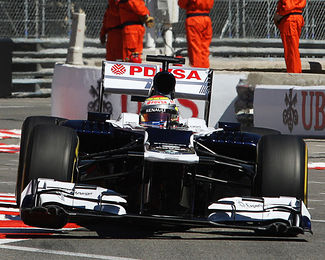 Pastor Maldonado was seen running in the Williams FW35 featuring the stepped nose and front wing of last year's FW34. Williams have lost the direction for its aerodynamic development, and as updates do not bring the expected progress, the team is now checking the efficiency of the car with better known elements, such as the 2012 nose cone and a front wing used late in the 2012 season.
Mike Coughlan, the team's technical director said "We were running different parts across the two cars this morning to try to improve our overall performance. We were happy with what we saw with Pastor's car, but we made some changes this afternoon which didn't work as we wanted, so we will be comparing the data from this morning to bring back the performance"
Indeed, the car appeared to work well with the older nose, which may point to a problem of airflow interaction between the front end of the car and the leading edge of the floor. Despite the progress, AmuS have learned that the team will be unable to use the 2012 spec elements as they might fail the beefed up front wing strength test.
Ahead of the season, there were already strange things going on at Williams. During winter testing the FW35 sometimes appeared with a lower nose, and other times with a very high nose, similar to the FerrariF138. The team was undecided even then, but denied there was a struggle going on. Instead they mentioned "ongoing evaluations" as the reason. Since then, the team also reverted from their ramp exhausts to a version similar to the 2012 layout.