Scuderia Toro Rosso STR8 Ferrari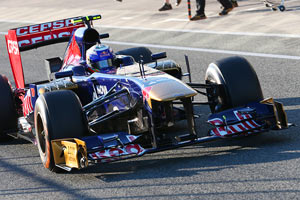 Active: 2013
Team: Scuderia Toro Rosso

Team: James Key (TD), Luca Furbatto (CD), Laurent Mekies (Head of Vehicle Performance), Steve Nielsen (Team Manager), Franz Tost (TP)
Drivers: Daniel Ricciardo (18), Jean-Eric Vergne (19), Sebastian Buemi (Reserve)
The STR8 is the first Toro Rosso built under the leadership of James Key and Luca Furbatto, both new within the team. The car was launched in the evening of 4 February at Jerez, a single day ahead of the start of pre-season testing at the same circuit. Around the same day, the team also announced the extension of its deals with Falcon Private Bank and CEPSA.
As the newly appointed technical director, James Key also brought a fresh wind to Faenza, resulting in the small growth of the engineering squad to speed up development pace: "Where I feel we are lacking is in our pure performance-based areas. Hence the hard push on the aero work and also on the vehicle dynamics and simulation side. We have made quite significant changes in that area and introduced a new Vehicle Performance department to the team". Just like with every team however, by the time of the launch of the 2013 car, the team was already developing its 2014 contender and splits development efforts between the two projects throughout the 2013 season.
The car sports a fundamentally different aerodynamic concept compared to its predecessors as the team found the slim and high sidepods reached the end of their development potential. The car's chief designer also pointed out that the team worked hard on reducing the overall weight of the car and increasing the setup possibilities by altering the suspension components.

More details of the car in its launch guise can be found in the full technical analysis.
Specifications
Official car name: STR8
Chassis material: Composite monocoque structure
Bodywork material: Carbon fibre composite
Front suspension: Upper and lower carbon wishbones, torsion bar springs and anti roll bars, Multimatic dampers
Rear suspension: Upper and lower carbon wishbones, torsion bar springs and anti roll bars, Multimatic dampers
Steering: Scuderia Toro Rosso
Gearbox: Seven-speed hydraulic
Clutch: Sachs Triple-plate pull-type
Calipers: Brembo
Pads and discs: Brembo
Cooling system (radiators, heat exchangers): Scuderia Toro Rosso
Cockpit instrumentation: Scuderia Toro Rosso
Seat belts: OMP / Sabelt
Steering wheel: Scuderia Toro Rosso
Driver's seat: Carbon fibre construction,moulded to driver's shape
Extinguisher system: Scuderia Toro Rosso/FEV
Wheels: Apptech
Fuel cell: ATL
Overall weight: 642 kg (including driver and camera)
Engine
Designation: Ferrari typo 056
Configuration: Naturally aspirated V8, 2398 cm³; cylinder block in sand cast aluminium V 90°
Valves: 32
Distribution: Pneumatic distribution
Piston bore: 98 mm
Weight: > 95 kg (minimum according to regulations)
Injection: Electronic injection and ignition
---
---