Sauber C33 Ferrari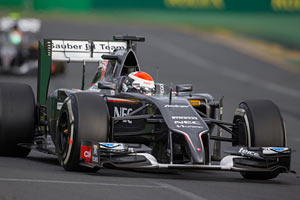 Active: 2014
Team: Sauber F1 Team

Team: Monisha Kaltenborn (TP), Eric Gandelin (CD), Willem Toet (HA), Benjamin Waterhouse (HVP), Beat Zehnder (TM), Giampaolo Dall'ara (HTE), Otmar Bartsch (HTO), Reto Camenzind (CM), Peter Sauber (Chairman)
Drivers: Adrian Sutil (99), Esteban Gutierrez (21), Giedo van der Garde (Reserve), Sergey Sirotkin (Test)
The Sauber C33 was presented online on the team's website on 26 January, two days before its public on-track debut at Jerez De La Frontera, immediately the start of pre-season testing. As of its track debut, the car ran fairly reliable but was never seen close to the top of the timesheet. It soon turned out that the car was simply not fast enough, also not after fitting the definitive race-ready aero package at the final pre-season test in Bahrain.
The development of the car was complicated because of the drastic regulation changes. Chief designer Eric Gandelin mentioned that the team needed to make chassis decisions before all information about the powertrain was available to them, exactly because Ferrari at that stage was also still very much at work developing their new turbo engine and electrical ancillaries. "The engineers, therefore, followed the path offering the greatest possible flexibility, which allows them to respond to unexpected factors or developments."
Perhaps the most visually striking element of the Sauber C33-Ferrari is the very low, snout-like nose. The front wing pylon's attachments on the nose have been moved out as far as possible allowed by the regulations to channel as much air as possible under the car. Even though the tip of the nose is much lower, the chassis itself didn't change much, allowing the team to retain the same front suspension concept, with its springs and dampers again pushrod-actuated. However, the changes to the regulations regarding the chassis profile have called for some detail adjustments.
Gone are also the narrow sidepods as present on the Sauber C32 due to the new, FIA-specified side crash elements that need to be housed inside them. The cooling air intakes are slightly larger than those of last year's car because the cooling requirements of the power unit and ancillaries have increased considerably. For the same reason, the vertically mounted radiators are significantly larger than in 2013.
The weight of the car also presented the engineers with a major challenge, as the 49 kg higher minimum weight only partly cancels out the weight added predominantly by the power unit and its ancillaries. But not only the weight itself is a challenge, also the weight distribution is crucial when it comes to making optimum use of the tyres. It is however believed that nearly all cars starting the 2014 season are overweight. This added weight comes from the of the power unit that sees a threefold increase in the number of electronics boxes alone compared to the Sauber C32-Ferrari. This means 40 such components had to be packaged into the car, more than 30 of which require cooling.
Once the season started, Sauber got confirmation that its C33 was too slow, publicly admitting to the lack of performance and the performance penalty paid due to its car being overweight.

Specifications
Chassis: Carbon-fibre monocoque
Front suspension: Upper and lower wishbones, inboard springs and dampers actuated by push-rods
Rear suspension: Upper and lower wishbones, inboard springs and dampers actuated by pull-rods
Dampers: Sachs Race Engineering
Brakes: Brembo callipers and carbon fibre pads and discs
Transmission: Ferrari 8-speed quick-shift sequential carbon-cased gearbox, hydraulically activated. Longitudinally mounted
Clutch Electronics: FIA standard ECU and FIA homologated electronic and electrical system
Steering wheel: Sauber F1 Team
Tyres: Pirelli
Wheels: OZ, magnesium alloy
Dimensions
Length: 5,300 mm
Height: 950 mm (minus T camera)
Track width: 1,460 mm (front); 1,416 mm (rear)
Weight: 691 kg (incl. driver, tank empty)
Powertrain
Designation: Ferrari 059/3
Type: turbocharged, 90° 1.6l V6, assisted with kinetic and heat ERS
Valves: 24 (4 per cylinder)
Rev limit: 15,000rpm
Pressure charging: Single turbocharger, unlimited boost pressure (typical maximum 3.5 bar abs due to fuel flow limit)
Bore: 80mm
Stroke: 53mm
Crank height: 90mm
Exhaust: Single exhaust outlet, from turbine on car centre line
Injection: Direct fuel injection, limited to 500bar
Weight: Undisclosed (at least 145kg)
Total horsepower: Approximately 600hp (ICE) + 160hp (ERS)
Energy recovery system: Integrated Hybrid energy recovery via electrical Motor Generator Units, by Ferrari
Energy Store: Lithium-Ion battery solution (up to 4MJ per lap), between 20 and 25 kg, by Ferrari
---
---