The revival of the blown wheel nut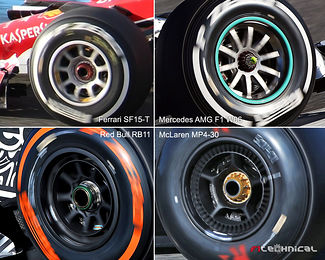 Jerez pre-season testing has definitely seen somewhat of a revival for the blown wheel nut, seeing that three of the major teams have introduced the system into their cars. All three of them also seem set to keep going with it, as none of these cars were seen with closed wheel nuts (yet).
Williams debuted this idea in 2013 on its Williams FW35, designed by Mike Coughlan. Having run it for the entire season, Williams opted against it in 2014. Is certainly triggered some interest with other teams, as then Champions Red Bull Racing came up with a similar design just a month after Williams debuted it. RBR however didn't push on with it, simply because it needs development of the entire car to get it working correctly.
Come Jerez 2015, it appears that the blown wheel nuts have gained interest, different rims have been introduced at the same time to create the most efficient way to control the front wheel's wake, a crucial property for the behaviour of a Formula One car. McLaren appears to have the most complex rims, with small channels on the outside, possibly to transfer more heat from the cooling air into the rim. Ferrari on the other hand have updated OZ wheels with a bigger closed area around the wheel nut while Red Bull Racing have a new ring on their specification of OZ wheels.
Also in the picture is the front wheel of Mercedes AMG F1's W06, showing how the Championship winning team have gone for an entirely different direction (for now). The team is running a very straightforward front wheel rim and have even removed the ring that they had in 2014.