New nose and camera mounts for Mercedes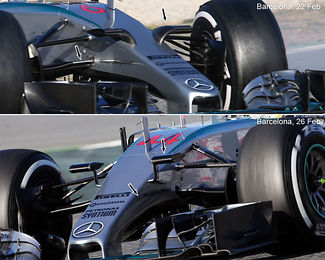 Mercedes AMG have come out on track today at Barcelona with an updated nose cone, along with new mountings for the camera pods. Even though unconfirmed reports recently noted that the FIA asked Mercedes and Ferrari to revert to more traditional camera mountings, the team have now come up with small vertical carbon fibre supports to mount the cameras even higher above the nose cone. It moves the camera out of the airflow onto the front suspension, whereas the shape of the mounting's attachment to the nose will certainly generate a vortex that is likely flowing in between the upper and lower wishbones.
Interestingly, and very similar to the second iteration of Mercedes' nose cone on the W05, the new nose retains its short shape but has been slimmed down underneath to draw more air underneath the car - it's very visible when looking at the #KeepFightingMichael sticker.