Red Bull RB12 TAG-Heuer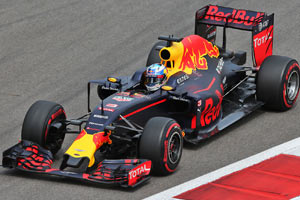 Active: 2016
Team: Red Bull Racing

Team: Adrian Newey (CTO), Rob Marshall (CD), Peter Prodromou (HA), Christian Horner (TP), Pierre Wache (CE)
Drivers: Daniel Ricciardo (3), Daniil Kvyat (26), Max Verstappen (33)
Team name: Red Bull Racing
Having gone through a difficult season in 2015, mainly due to a lack of power, but as well as several chassis deficiencies that the team found out quickly, but did not resolve through the season, Red Bull Racing focused to get its problems sorted, even though that eventually resulted in the team continuing with Renault power. The team had repeatedly criticised the French engine supplier for the engine's lack of reliability and performance, and steered towards a split, but a lack of options forced Red Bull Racing to stick with Renault. Still, a commercial partnership with Tag Heuer enabled the team to rebrand its Renault engines, allowing the engine supplier to focus more openly on its own team after buying the troubled Lotus F1 Team.
Chassis wise, the RB12 is an evolution of the RB11, even though the team, as is traditional for them, opted to stretch development until the last moment and only passed all mandatory crash tests shortly before the first winter test session at Circuit de Catalunya, Barcelona.
As with the rest of the car, the front end retained the same design principles, with a steeply sloped nose and a focus on high underbody airflow. The RB12's nose is another iteration, being a tad bit shorter than on the RB11. The nose yet again incorporates an S-duct, catching laminar airflow from underneath the nose and guiding it to the upper surface through a duct running through the nose, just ahead of the internal front suspension components.
The car also features revised brake ducts and blown front wheel axles in an attempt to better control the wake of the front wheels. Having experimented with them earlier on, many teams started opting for the blown wheel hubs in 2016.
The sidepods have similarly undergone development progress, featuring a tighter rear end shape. Red Bull has always been a front runner in this aspect of car design, even though the Toro Rosso STR11 seemed to be even tighter.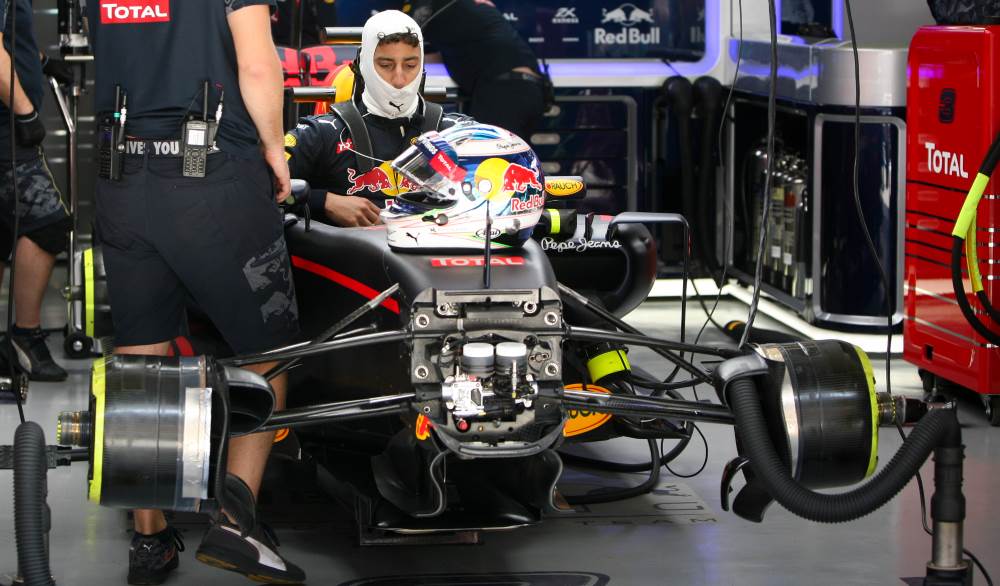 Performance wise, the car soon proved to be an agile midfield contender, partly because of Renault's improvements, but also because of the chassis characteristics. Mercedes and Ferrari engineers recognised early in the season that their GPS data showed the RB12 was capable of reaching cornering speeds beyond the possibilities of their own cars. This paid off at the Spanish Grand Prix, where both Mercedes collided, and Max Verstappen, replacing Kvyat, made the best off the opportunity to win the Grand Prix.
Specifications
Chassis: Composite monocoque structure, designed and built in-house, carrying the Renault V6 as fully stressed member
Wheels: OZ Racing (Front: 12.0in x 13in diam., Rear: 13.7in x 13in diam.)
Tyres: Pirelli
Front suspension: Aluminium alloy uprights, carbon-composite double wishbone with springs and anti-roll bar, Multimatic dampers
Rear suspension: Aluminium alloy uprights, carbon-composite double wishbone with springs and anti-roll bar, Multimatic dampers
Brakes: Carbon - Carbon with Brembo callipers
Electronics: MESL standard electronic control unit
Fuel: Total
Transmission
Gearbox: Eight-speed gearbox, longitudinally mounted with hydraulic system for power shift and clutch operation, by Red Bull Technology
Powertrain
Designation: Red Bull Racing - Tag Heuer RB12 - 2016 (built around the Renault R.E.16 ICE)
Type: Turbocharged, 90° 1.6l V6, assisted with kinetic and heat ERS
Valves: 24 (4 per cylinder)
Engine Construction: Cylinder block in aluminium
Rev limit: 15,000rpm
Pressure charging: Single turbocharger, unlimited boost pressure (typical maximum 3.5 bar abs due to fuel flow limit)
Bore: 80mm
Stroke: 53mm
Crank height: 90mm (minimum allowed)
Exhaust: Single exhaust outlet, from turbine on car centre line
Injection: Direct fuel injection, limited to 500bar
Weight: Undisclosed (at least 145kg)
Total horsepower: Approximately 600hp (ICE) + 160hp (ERS)
Energy recovery system: Integrated Hybrid energy recovery via electrical Motor Generator Units
Energy Store: Battery solution (up to 4MJ per lap), between 20 and 25 kg
---
---