Renault R25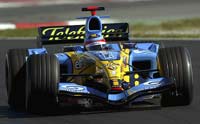 Active: 2005
Team: Renault F1

Designers: Robert Bell (TD), Tim Densham (CD), Dino Toso (CA)
Drivers: Fernando Alonso (5), Giancarlo Fisichella (6)
The philosophy behind this car was very much one of evolution. Its predecessor, the R24 and R24B had a compromised mechanical architecture by the late change of engine angle. Renault decided at that time that a 72° angle would be a better solution then 90°. The new RS25 engine is once more a 72° design but has a lower centre of gravity, and a much stiffer installation than with the R24. Thefocus has been on optimising each detail to improve stiffness, reduce weight and package the components very tightly to give the aerodynamicists as much freedom as possible.
2005 was also the year of new aerodynamic rules to reduce downforce. RenaultF1 allocated wind tunnel resources as soon as the regulation changes were announced last July. That decision was a risk, and cost performance at the end of 2004 where the R24 could not get on the podium in the last races. The team made big step forward from its initial downforce loss of approximately 25%.
The car's major innovation is an all-new electronic system integrating the engine and chassis controllers, named Step 11. It is physically lighter, representing a quarter of the total weight saving in the new car, and brings a concrete advantage in terms of the scope of development: it allows a four times' greater processing power, and ten times' more data acquisition capacity, all of which will contribute to improvements in the control systems.
The other new feature of the car is the 'v keel' front suspension.
Technical director Bob Bell: "In recent years, we have seen two schools of thought evolve in front suspension design: the traditional single keel, with a single front lower wishbone, and the twin keel, which brings a measurable aerodynamic gain but can also have a structural penalty outweighing the benefit. We believe the v-keel is a very elegant solution to this dilemma, as it combines the virtues of both systems: we have obtained an aerodynamic advantage for minimal structural penalty, while maintaining our preferred mechanical configuration for the front suspension."
Specifications
Chassis: Moulded carbon fibre and aluminium honeycomb composite monocoque, manufactured by the Renault F1 Team and designed for maximum strength and stiffness with minimum weight. Engine installed as a fully-stressed member.
Front suspension: Carbon fibre top and bottom wishbones operate an inboard titanium rocker via a pushrod system. This is connected to a torsion bar and damper units which are mounted at the front of the monocoque.
Rear suspension: Carbon fibre top and bottom wishbones operating vertically-mounted torsion bars and horizontally-mounted damper units mounted on the top of the gearbox casing. Bottom wishbone attached by 'v' keel mounting.
Transmission: Six-speed semi-automatic gearbox with one reverse gear.
Fuel system: Kevlar-reinforced rubber fuel cell provides reduced risk of fire and is mounted behind cockpit in chassis monocoque.
Cooling system: Separate oil and water radiators located in the car's sidepods and cooled using airflow from the car's forward motion.
Electrical: Integrated chassis/engine electronics and software co- developed by Renault F1 Team and Magneti Marelli.
Braking system: Carbon discs and pads (Hitco); calipers by AP Racing.
Cockpit: Removable driver's seat made of anatomically formed carbon composite, with six-point harness seat belt. Steering wheel integrates gear change and clutch paddles.
Car dimensions and weight:
Front track: 1,450mm Rear track: 1,400mm Wheel base: 3,100mm
Overall length: 4,800mm Overall height: 950mm Overall width: 1,800mm
Overall weight: 605kg including driver, camera and ballast
RS25 engine:
72° 'V' angle with optimum integration in the new R25 chassis. Atmospheric 3-litre V10 engine
The car is known for its elaborative implementation of the 'shark gills' which were previously used by Ferrari on a smaller scale. Although being usually slower than the McLaren MP4-20 in the second half of the season, Renault took the advantage in the first half of the season where they won the first 6 grand prix.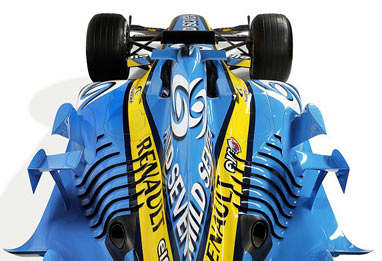 ---
---