Williams FW37 Mercedes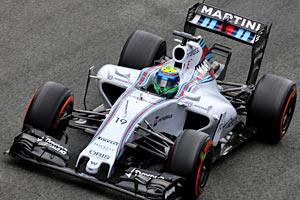 Active: 2015
Team: Williams F1

Team: Pat Symonds (CTO), Rob Smedley (Head of Performance Engineering), Jason Somerville (HA), Ed Wood (CD), Claire Williams (DTP), Frank Williams (TP), Patrick Head (Co-Founder), Mike O'Driscoll (Group CEO)
Drivers: Felipe Massa, Valtteri Bottas (77), Susie Wolff (3rd), Alex Lynn (Development)
Team name: Williams Martini Racing
The Williams FW37 is a solid evolution of the team's successful FW36. It was first fired up at the team's factory in Grove in the evening of 19 January and debuted on track on 1 February at Circuito de Jerez in the first official pre-season test.
Most of the work on this Williams went into trying to find out the best solution to meet the new nose regulations and coping with the effects that this had on the rest of the car. It is thought that the lowered nose, as mandated by the rules for safety, equals a drop of downforce of 50 to 60 points, so just like most other teams, Williams have attempted to find back as much as they could. Credit for the team though that they soon found out a short thumb nose was the way to go, with more and more cars though 2015, and at the beginning of 2016 adopting this design. The short nose proved an aerodynamic advantage, but a headache to get right in the frontal impact crash test.
Other that this major change that also likely added weight at the front of the car, Williams clearly limited itself to developing the rear end, backing on the effectiveness of the aerodynamics of the car's predecessor. The rear wing was redesigned to feature a central support that wraps around the exhaust pipe before connecting on the gearbox case. The team thereby joined the common trend, finding that it's easier and lighter than trying to support all of the rear wing's load through stiff endplates.
The same goes for the internals, as Williams continued to use Mercedes engines. The team further developed its own 8-speed gearbox, thereby modifying the casing to reposition the rear suspension mountings. This rear suspension was redesigned to increase low speed rear grip and reduce drag by aligning the lower wishbone, driveshaft and track rod. Williams continued to use air-to-air intercooling different from that used by Mercedes and mounted in the sidepods.
Results
Performance wise, the car was less competitive than the FW36 of 2014 but still finished in the points at nearly every Grand Prix, and enabled the team to secure its second consecutive third place in the Constructors' Championship. Only four podiums were achieved, all third place finishes. The team therefore failed to achieve its pre-season target of returning to their winning ways.
Specifications
Chassis: Carbon-fibre monocoque
Front suspension: Upper and lower wishbones, inboard springs and dampers actuated by push-rods
Rear suspension: Upper and lower wishbones, inboard springs and dampers actuated by pull-rods
Dampers: Williams
Brakes: AP 6 piston front and 4 piston rear calipers with carbon discs and pads
Transmission: Williams eight speed seamless sequential semi-automatic shift plus reverse gear, gear selection electro-hydraulically actuated
Clutch: Carbon fibre plates
Electronics: FIA standard ECU and FIA homologated electronic and electrical system (as provided by MES)
Cooling system: Aluminium oil, water and gearbox radiators
Tyres: Pirelli, Fronts: 245/660-13, Rears: 325/660-13
Wheels: Aptech, forged magnesium alloy
Fuel system: ATL Kevlar-reinforced rubber bladder
Dimensions
Length: 5,000 mm
Height: 950 mm (minus T camera)
Track width: 1,460 mm (front); 1,416 mm (rear)
Weight: 702kg (FIA mininum; incl. driver and lubricants, tank empty)
Powertrain
Designation: Mercedes-Benz PU106B Hybrid
Type: Turbocharged, 90° 1.6l V6, assisted with kinetic and heat ERS
No of valves: 24 (4 per cylinder)
Fuel injection: High-pressure direct injection (max 500 bar, one injector/cylinder)
Pressure charging: Single-stage compressor and exhaust turbine on a common shaft
Bore: 80mm
Stroke: 53mm
Crank height: 90mm (minimum allowed)
Energy recovery system: Integrated Hybrid energy recovery via electrical Motor Generator Units
Energy Store: Lithium-Ion battery solution, between 20 and 25 kg
Fuel: PETRONAS Primax
Lubricants: PETRONAS Syntium
Gearbox & hydraulic oil: PETRONAS Tutela
---
---