Ferrari SF1000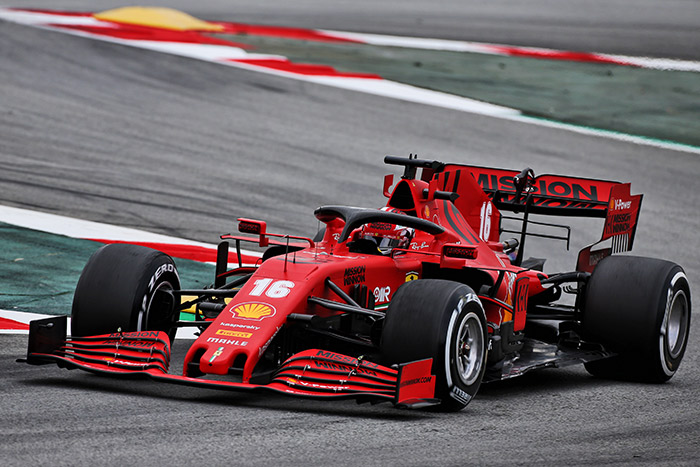 Active: 2020
Team: Scuderia Ferrari SpA

Team: Loic Bigois (HA), Simone Resta (HCE), David Sanchez (HA), Corrado Onorato (DCD), Rory Byrne (Tech Advisor), Laurent Mekies (SD), Matteo Togninalli (CRE), Mattia Binotto (TP), John Elkann (Chairman)
Drivers: Sebastian Vettel (5), Charles Leclerc (16)
Major partners: SKF, NGK, Marelli, Shell, Mahle, Brembo, Garett, Sabelt, Philip Morris, Ray Ban, UPS,
The SF1000 - design code 671 - is the 66th car built by Ferrari to take part in the Formula 1 World Championship. Although the regulations have changed almost nothing, and the tyres have stayed the same, the team claimed the SF1000 was "significantly different than its predecessor, with changes aimed at optimising aerodynamic downforce and balance".
Closer inspection of the car unveiled that Ferrari had followed Mercedes in offsetting the pushrod away from the wheel. The sidepods were more sculpted, but overall it was clear that the essential elements that make the aerodynamic concept had not changed: small airbox, high sidepod inlets, low upper front suspension wishbones, outwash front wing and many more 'evolutions' from the 2019 car.
At the launch, at Reggio Emilia on 11 February, Ferrari was similarly optimistic about its new power unit, noting "it represents a step forward in the combustion efficiency of its Internal Combustion Engine, due mainly to two factors, a new design and a new fuel. A new Turbocharger and Energy Recovery System have been developed in order to maximize the overall Power Unit performance. As part of the overall concept of the 671 car, the PU layout design has focused on being as compact as possible, while also rationalising the weight and size of the Energy Store."
But, in testing, the car appeared to lack top speed. While Sebastian Vettel claimed the car was indeed a big improvement in cornering, thanks to more downforce, it was also "a bit draggy".
Team Principal Binotto added to that a few days later: "In terms of overall performance on the power and the engine, we are not as strong as we were last year. We were somehow focused on our reliability and that is somehow compromising eventually the performance.
"But the drag is significantly affecting the speed. I think when you look for better speed you need to look for the drag and the power of the engine itself.
The SF1000 is the seventh car built to race in Formula 1's hybrid era, which began in 2014. Its name reflects the fact that, when we get to the ninth race of this year, the Scuderia will have taken part in a thousand Grands Prix. Ferrari made its Formula 1 debut on 21 May 1950, in Monaco, in the second ever championship Grand Prix. The Maranello team is the most successful in the sport with 16 Constructors' titles, 15 Drivers' and 238 Grand Prix victories.
Specifications
Chassis: Carbon-fibre monocoque
Front suspension: Upper and lower wishbones, inboard springs and dampers actuated by push-rods
Rear suspension: Upper and lower wishbones, inboard springs and dampers actuated by pull-rods
Dampers: Undisclosed
Brakes: Brembo callipers and carbon fibre pads and discs
Transmission: Ferrari 8-speed quick-shift sequential carbon-cased gearbox, hydraulically activated. Longitudinally mounted
Clutch: Carbon fibre plates
Differential: Servo controlled hydraulic limited-slip differential
Electronics: FIA standard ECU and FIA homologated electronic and electrical system (as provided by MES)
Tyres: Pirelli
Wheels: OZ, magnesium alloy
Dimensions
Height: 950 mm (minus T camera)
Track width: 1,600 mm (front); 1,550 mm (rear)
Weight: 746kg (FIA mininum; incl. driver and lubricants, tank empty)
Powertrain
Designation: Ferrari 065
Type: turbocharged, 90° 1.6l V6, assisted with kinetic and heat ERS
Valves: 24 (4 per cylinder)
Rev limit: 15,000rpm
Pressure charging: Single turbocharger, unlimited boost pressure (typical maximum 3.5 bar abs due to fuel flow limit)
Bore: 80mm
Stroke: 53mm
Crank height: 90mm
Exhaust: Single exhaust outlet, from turbine on car centre line, along with two outlet pipes connected to the wastegate
Injection: Direct fuel injection, limited to 500bar
Weight: Undisclosed (at least 145kg)
Total horsepower: More than 950hp
Energy recovery system: Integrated Hybrid energy recovery via electrical Motor Generator Units
Energy Store: Lithium-Ion battery solution (up to 4MJ per lap), between 20 and 25 kg
Cooling system: Secan/Marston
Fuel and lubricants: Shell
---
---