McLaren MCL35 Renault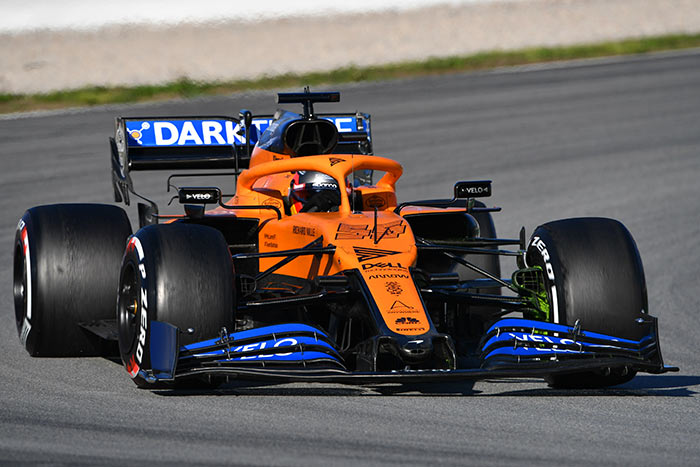 Active: 2020
Team: McLaren International Ltd

Team: James Key (TD), Andreas Seidl (TP), Andrea Stella (RD), Peter Prodromou (CTO), Tony Salter (HA), Richard Frith (HVP), Stephen Watt (HEL), Marianne Hinson (Aero Dept. Manager), Christian Schramm (HRT), Hiroshi Imai (CRE), Mark Ingham (Head of Design), Kari Lammenranta (CM), Piers Thynne (Production Director), Paul James (TM), Simon Roberts (COO), Neil Oatley (Director of Design & Development), Zak Brown (CEO)
Drivers: Carlos Sainz (55), Lando Norris (4)
Team name: McLaren Racing
McLaren's Renault-powered MCL35 was launched in a presentation at the McLaren Technology Centre on 13 February. It's the first car designed and built under the command of technical director James Key, after he arrived at the team after the first race of 2019.
The car continues to feature the papaya and blue colours like on the MCL34, albeit with matte paint - as already done so by Red Bull and Ferrari, partially because it offered a weight reduction.
The car itself features obvious similarities with its predecessor, but the team have made a big effort in trying to make the sidepods more compact for enhanced rear-end aerodynamic performance.
The compromise is that the McLaren features a very distinctive airbox, with 4 split air inlets aft the driver's head. Other teams, such as Mercedes AMG F1 are doing the same trade-off for years, but not with such a peculiar airbox design as a result.
James Key explained at the first test: "The body is following a trend I think we're seeing increasingly with a very narrow sidepod, which is quite an exercise in packaging. You have to plan quite early for that sort of thing because it involves a lot of the engine installation and so on.
"We've done a similar exercise with the gearbox to match the philosophy. On the rear part there's been a lot of work on the rear suspension too. From the cockpit backwards it's a very different approach to what we had before on the conceptual side of things. Equally there's a lot of technologies, let's say, around the front which are only possible to do with a new car. We've introduced that too."
Key also said the team aimed to close to the gap to the top three teams, though it realistically felt it was too early for them to challenge the front runners. Instead, McLaren was already having a keen eye on 2021 in which big regulation changes would be introduced and for which the team had already done a deal with Mercedes for a supply of power units, dropping Renault power after 3 seasons.
On track performance
Following its launch, the car was shipped to Barcelona, where the team performed a shakedown in a filming day on 17 February, two days before the official start of pre-season testing at the same Circuit de Catalunya-Barcelona.
Specifications
Chassis: Carbon-fibre composite monocoque, incorporating driver controls and fuel cell
Front suspension: Carbon-fibre wishbone and pushrod suspension elements operating inboard torsion bar and damper system
Rear suspension: Carbon-fibre wishbone and pullrod suspension elements operating inboard torsion bar and damper system
Dampers: Sachs Race Engineering
Brakes: Carbon fibre pads and discs, Akebono brake calipers and master cylinders; Akebono 'brake by wire' rear brake control system
Transmission: McLaren 8-speed electro-hydraulically operated seamless shift sequential carbon-cased gearbox, longitudinally mounted
Clutch: Electro-hydraulically operated, carbon multi-plate (by AP Racing)
Differential: Epicyclic differential with multi-plate limited slip clutch
Electronics: McLaren Applied Technologies. Including chassis control, power unit control, data acquisition, alternator, sensors, data analysis and telemetry
Cooling system: Marelli charge air, engine oil and ERS cooling systems
Steering: Power-assisted rack and pinion
Steering wheel: McLaren Applied Technologies dashboard
Tyres: Pirelli
Wheels: Enkei, magnesium alloy
Paint: AkzoNobel Car Refinishes system using Sikkens products
Lubricants and fluids: BP Castrol
Fuel: BP Castrol
Dimensions
Height: 950 mm (minus T camera)
Weight: 746kg (FIA mininum; incl. driver and lubricants, tank empty)
Weight distribution: between 45.4% and 46.4% (as limited by the regulations)
Powertrain
Designation: Renault E-Tech 20
Type: Turbocharged, 90° 1.6l V6, assisted with kinetic and heat ERS
Valves: 24 (4 per cylinder)
Rev limit: 15,000rpm
Pressure charging: Single turbocharger, unlimited boost pressure (typical maximum 3.5 bar abs due to fuel flow limit)
Bore: 80mm
Stroke: 53mm
Crank height: 90mm
Construction: Cylinder block in aluminium
Exhaust: Single exhaust outlet, from turbine on car centre line
Injection: Direct fuel injection, single injector per cylinder, limited to 500bar
Weight: Undisclosed (at least 145kg)
Total horsepower: More than 950bhp (as claimed by Renault Sport)
Energy recovery system: Energy Recovery Systems incorporating two motor generator units – the MGU-H, recovering energy from the exhaust and the MGU-K recovering energy from braking
Energy Store: Battery solution (up to 4MJ per lap), between 20 and 25 kg
---
---