Haas VF-20 Ferrari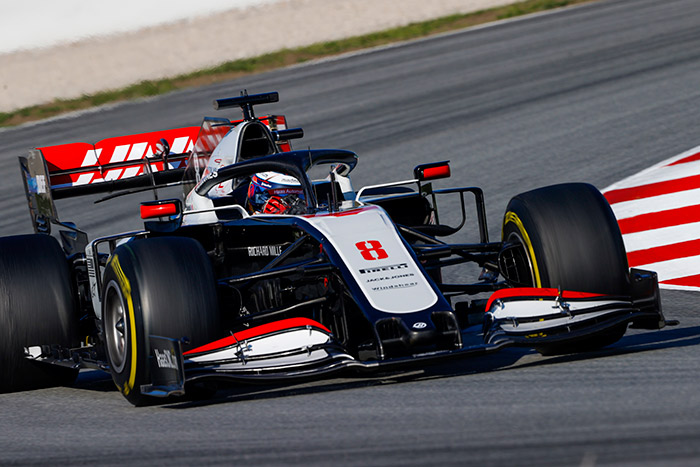 Active: 2020
Team: Haas F1 Team

Team: Phil Dixon (HVP), Ayao Komatsu (CRE), Steve Fraser (HEL), Fabio Segalini (DCD), Matthew Scott (CM), Gene Haas (Chairman), Peter J. Crolla (TM), Gunther Steiner (TP)
Drivers Romain Grosjean (8), Kevin Magnussen (20), Pietro Fittipaldi (test)
Major partners: Haas Automation, Jack & Jones, Peak, BlueDEF, Richard Mille, Alpinestars, Windshear
Haas unveiled its 'new' colours on February 6 via the release of a number of car renderings. After a single year in black and gold - coming along with the terminated Rich Energy sponsorship deal - the team returned to its black, white and red colours, the core colours of Haas Automation.
The car continues the regular Haas tradition in Formula One, with the team having engineers present at Dallara headquarters to develop the chassis and brank on the Italian company's experience. Partnered to that is the team's operational headquarters at Banbury, Oxford, from where the team operates its race and test teams. Continuing their partnership with Ferrari, the Haas VF-20 is powered by the 2020 Ferrari power unit, paired to a 2019 Ferrari 8-speed gearbox. Beyond that, the Haas team continued to take massive 'inspiration' from Ferrari's aerodynamic work, resulting in a car that appears very similar to the Ferrari SF90.
Most importantly, it is the car that had to bring Haas back into the midfield, after a very troubled 2019 season in which the team were at a loss to explain the difficulties experienced at a large amount of circuits, while doing much better at other venues.
Team principal Guenther Steiner said at the launch that "the VF-20 has to deliver where our previous car didn't. With the regulations remaining stable into this season, it's allowed us to improve our understanding of the car and to scrutinize ourselves more in order to find solutions and applications to channel into the design of the VF-20."
The car was later officially unveiled by its drivers on February 19 in the pitlane of Circuit de Catalunya-Barcelona, half an hour before the start of pre-season testing.
Performance
Haas F1 Team recorded a total of 676 laps across six days of pre-season testing for 3146.78 kilometres. The mileage was divided between Grosjean (399) and Magnussen (277). With that, Haas completed the least mileage of all teams - due to a few crashes - and only has the slowest fastest lap of all, with Magnussen 6 tenths of a second slower than anybody else.
Specifications
Chassis: Carbon-fibre monocoque
Front suspension: Upper and lower wishbones, inboard springs and dampers actuated by push-rods
Rear suspension: Upper and lower wishbones, inboard springs and dampers actuated by pull-rods
Dampers: ZF Sachs Race Engineering
Brakes: Six-piston callipers and carbon fibre pads and discs
Transmission: Ferrari 8-speed quick-shift sequential carbon-cased gearbox, hydraulically activated. Longitudinally mounted
Clutch: Carbon fibre plates, by AP Racing
Differential: Servo controlled hydraulic limited-slip differential
Electronics: FIA standard ECU and FIA homologated electronic and electrical system (as provided by MES)
Steering: Ferrari
Tyres: Pirelli
Wheels: OZ, magnesium alloy
Dimensions
Height: 950 mm (minus T camera)
Track width: 1,600 mm (front); 1,550 mm (rear)
Weight: 746kg (FIA mininum; incl. driver and lubricants, tank empty)
Powertrain
Designation: Ferrari 065
Type: turbocharged, 90° 1.6l V6, assisted with kinetic and heat ERS
Valves: 24 (4 per cylinder)
Rev limit: 15,000rpm
Pressure charging: Single turbocharger, unlimited boost pressure (typical maximum 3.5 bar abs due to fuel flow limit)
Bore: 80mm
Stroke: 53mm
Crank height: 90mm
Exhaust: Single exhaust outlet, from turbine on car centre line, along with two outlet pipes connected to the wastegate
Injection: Direct fuel injection, limited to 500bar
Weight: Undisclosed (at least 145kg)
Total horsepower: More than 950hp
Energy recovery system: Integrated Hybrid energy recovery via electrical Motor Generator Units
Energy Store: Lithium-Ion battery solution (up to 4MJ per lap), between 20 and 25 kg
Cooling system: Secan/Marston
Fuel and lubricants: Shell
---
---