Alpine A521 Renault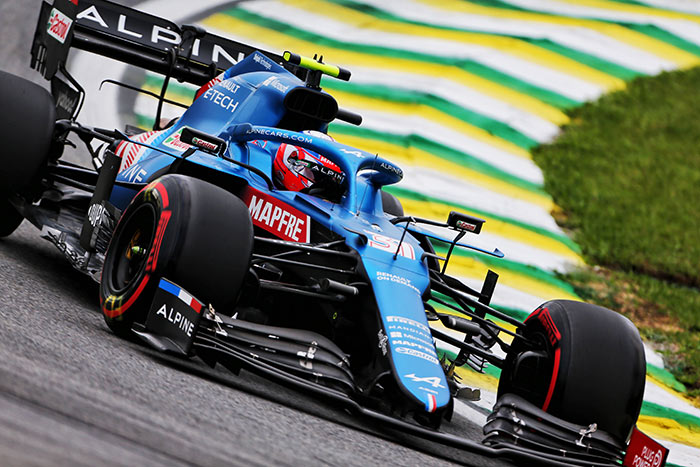 Active: 2021
Team: Alpine F1 Team

Team: Pay Fry (TD Chassis), Rémi Taffin (TD Engine), Vincent Hubert (DTD Engine), Simon Virrill (CD), Steven Booth (DCD), Dirk De Beer (HA), Christian Sol (Head Of Engineering Process), Christopher Dyer (HVP), Ciaron Pilbeam (CRE), Nico Cuturello (Trackside Operations Manager), Paul Seaby (Race Team Factory Support Manager), Alan Permane (SD), Matthew Harman (ED), Rob White (OD), Marcin Budkowski (Exec Director), Laurent Rossi (CEO), Davide Brivio (RD), Bob Bell (Tech advisor)
Drivers: Fernando Alonso (14), Esteban Ocon (31), Guanyu Zhou (reserve), Daniil Kvyat (development)
The Enstone team had high hopes for 2021, opting to continue with a chassis that basically dated back from 2018. The team spent its development tokens on the rear of the car, enabling them to raise the upper wishbone of the rear suspension by little more than 70mm, mainly for aerodynamic gains.
Development through the winter however didn't go as planned, with Marcin Budkowski confirming at the second race of the season that the team had lost valuable time in the wind tunnel: "We had issues related to the change in the regulations and the various flow features that it induced on the car. And we had issues with the hardware, the wind tunnel and testing. The problem is not that we lost performance, it's that we lost development time".
The delay saw the team compete in Bahrain with a fairly standard car, even lacking some components that were displayed on the car's rendering during the launch. Experimenting with floor changes and running big rakes to verify aerodynamics, the team seemingly considered that first race as a continuation of testing, following by the introduction of the new nose cone, new front wing and modifications to the diffuser in the next few races.
On-track performance
Having enjoyed a positive 2020 season under the Renault F1 Team name, Alpine had hoped to be a strong midfield contender but was struggling to keep up with that midfield at the first race of the season in Bahrain. After upgrades arrived, the team ended up being a strong midfielder in more or less the same position as they had been the year before.
Apart from the season opener and the United States Grand Prix, where both cars retired, Alpine scored points, topped by a surprise victory of Esteban Ocon at the Hungarian Grand Prix after carnage at the start and Fernando Alonso's notable defence on a charging Lewis Hamilton. Alonso later managed to get a podium for himself at the Qatar Grand Prix as well, making the team finish the season 5th in the constructors' standings.
Specifications
Chassis: Carbon-fibre monocoque, manufactured and designed in-house
Front suspension: Upper and lower carbon wishbones, inboard torsion springs and dampers actuated by push-rods, aluminium uprights
Rear suspension: Upper and lower carbon wishbones, inboard torsion springs and dampers mounted inside gearbox casing, actuated by pull-rods, aluminium uprights
Dampers: Undisclosed
Brakes: 6 piston front and 4 piston rear calipers with carbon discs and pads (calipers by Brembo, master cylinders by AP Racing)
Transmission: Eight-speed seamless sequential semi-automatic shift plus reverse gear, gear selection electro-hydraulically actuated, carbon maincase
Clutch: Carbon fibre plates
Electronics: FIA standard ECU and FIA homologated electronic and electrical system (as provided by MES)
Cooling system: Aluminium oil, water and gearbox radiators
Tyres: Pirelli
Wheels: OZ Racing, machined magnesium alloy
Fuel system: ATL Kevlar-reinforced rubber bladder
Dimensions
Length: 5425mm
Height: 950 mm (minus T camera)
Track width: 1,600 mm (front); 1,550 mm (rear)
Weight: 753kg (FIA mininum; incl. driver and lubricants, tank empty)
Width: 2,000 mm (FIA maximum)
Powertrain
Designation: Renault E-Tech 20B
Type: Turbocharged, 90° 1.6l V6, assisted with kinetic and heat ERS
Valves: 24 (4 per cylinder)
Rev limit: 15,000rpm
Pressure charging: Single turbocharger, unlimited boost pressure (typical maximum 3.5 bar abs due to fuel flow limit)
Bore: 80mm
Stroke: 53mm
Crank height: 90mm (FIA minimum)
Construction: Cylinder block in aluminium
Exhaust: Single exhaust outlet, from turbine on car centre line
Injection: Direct fuel injection, one injector per cylinder, limited to 500bar
Weight: Undisclosed (at least 145kg)
Total horsepower: More than 950bhp (as claimed by Renault Sport)
Energy recovery system: Energy Recovery Systems incorporating two motor generator units – the MGU-H, recovering energy from the exhaust and the MGU-K recovering energy from braking
Energy Store: Battery solution (up to 4MJ per lap), between 20 and 25 kg
---
---