McLaren M5A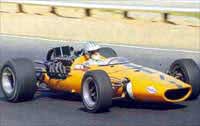 Active: 1967 - 1968
Team: McLaren International Ltd
"Another F1 one-off, but purpose built for a BRM V-12 in full 3-litre capacity. The chassis followed M4 lines but the main fuel tanks were within the side pontoons so there were no extemporary bulges (additional fuel was carried above and below the driver's legs and the extensions from the monocoque that supported the V-12). Suspension followed existing lines. This car was competitive - McLaren challenged for the lead in the Candian and Italian GPs with it in 1967, but it was placed in the points only once, when Hulme was fifth in the 1968 South African GP. After that it was sold to Jo Bonnier who raced it late in 1968, and was sixth in the Italian GP. " From: 'A - Z of Formula Racing Cars 1945-1990' by David Hodges
Specifications: Chassis: Aluminium alloy panelled monocoque formed over mild steel bulkheads with long pontoons at the rear to support the V-12 engine
Suspension: Single top link with radius arm, lower wishbone, anti-roll bar and outboard coil spring/shock units in front, and outboard coil spring/shock units at rear. McLaren cast magnesium wheels, 13 x 8½ fronts and 15 x 12 rear.
Brakes: Lockheed discs and calipers all around.
Body: Formed by monocoque sides apart from fibreglass nose cone and cockpit surround.
Engine: 3 litre BRM V-12 with Borg & Beck clutch and Hewland DG 5 speed transaxle.
Dimensions: Wheelbase 96 inches, front track 58 inches, rear track 58 inches.
---
---