Arrows A6 Cosworth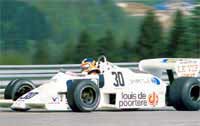 Active: 1983 - 1984
Team: Arrows Grand Prix International Ltd

Designer: Dave Wass
Drivers: Marc Surer (29 in 1983, 17 in 1984), Chico Serra (30), Alan Jones (30), Thierry Boutsen (30 in 1983, 18 in 1984)
Just like the A5, the Arrows A6 was designed by David Wass. The car was set to be Arrows' last normally aspirated car before the team made the jump into the turbo era halfway through 1984 by the introduction of the BMW-powered Arrows A7.
The A6 became a modest development of the reasonable A5, mostly focused on making it comply with the new regulations that banned refuelling and ground effects, in favour of a flat bottom with a diffuser as the back. An important decision in this respect was the centrally mounted fuel tank, in between the cockpit and the front of the engine, forced the engine to be mounted a little further back than would usually be wanted, giving the car an unusually heavy rear end.
The chassis itself was also compromised as the team continued with a aluminium honeycomb monocoque frame, judging a carbon fibre monocoque too expensive.
Aerodynamically, the car retained a flat nose and wide front wing as on the A5. At the rear, more similarities were obvious with the A5 as the rear wing continued to feature a central support pillar. The car's bodywork on the other hand did change throughout the car's racing career. One configuration saw the car appear with a traditional open engine cover, putting the engine's inlet trumpets into open air. A newer and undoubtedly more efficient design featured closed bodywork, with two inlet scoops on either side of the engine cover to take passing air into the engine to support combustion.
Specifications
Chassis: Aluminium honeycomb monocoque
Suspension: Double wishbones, springs (front and rear)
Tyres: Goodyear
Fuel: Valvoline
Transmission: Hewland FGA 5-speed manual
Dimensions
Front track: 1791 mm (70.5 in)
Rear track: 1670 mm (66 in)
Wheelbase: 2692 mm (106 in)
Weight: 540 kg
Engine
Designation: Ford Cosworth DFY
Configuration: normally aspirated 90° V8
Displacement: 2991 cc
Bore/Stroke: 90mm / 58.8mm
Compression: 11.5:1
Camshaft: Gear driven
Valvetrain: 4 valves / cylinder, DOHC
Lubrication: Dry sump
Fuel feed: Lucas Fuel Injection
Power output: Approx 530 bhp @ 11600 rpm
---
---