Williams FW08C Cosworth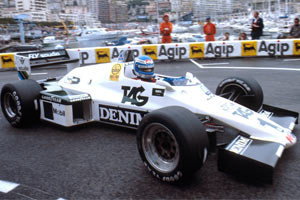 Active: 1983
Team: Williams F1

Team: Frank Williams (TP), Patrick Head (TD), Neil Oatley (CD), Frank Derney (CA), Alan Challis (CM)
Drivers: Keke Rosberg (1), Jacques Laffite (2), Jonathan Palmer (42)
Chassis built: 7
Team name: TAG Williams
The Williams FW08C is a modified FW08 to comply with the 1983 regulations. As the FIA banned ground effect and required all cars to have a flat bottom, the big, inverse wing shaped sidepods were replaced by smaller and simpler versions to create as little drag as possible.
Powered by a Ford Cosworth 3l engine, the car suffered a major lack of downforce compared to the turbo engines. As a result, the car was only good on slow twisty circuits, while at the faster venues it could simply not keep up with the crude power of engines by Ferrari, BMW, Hart, TAG (by Porsche) and Renault. Williams did switch from a five speed to a six speed gearbox, but to little avail.
The chassis itself proved efficient enough for one win, the most prestigious, as Keke Rosberg crossed the line at Monaco. The team finished the season with 38 points and were looking forward to 1984, thanks to a turbo engine deal with Honda for the Williams FW09.
Specifications
Chassis: Aluminum monocoque
Suspension: doubles wishbones, push-rod actuated coil springs over shock absorbers, anti-roll bar
Steering: Rack-and-pinion, by Williams/Knight
Brakes: Vented discs, all-round, by Lockheed, pads by Ferodo
Gearbox: Hewland FGA, 6 speed Manual
Drive: Rear wheel drive
Clutch: Borg & Beck
Fuel: Mobil
Oil: Mobil
Dampers: Koni
Tyres: Goodyear
Battery: Panasonic
Dimensions
Front track: 1803 mm
Rear track: 1600 mm
Wheelbase: 2591 mm
Weight: 540 kg
Engine
Configuration: Ford Cosworth DFY 90º V8
Location: Mid, longitudinally mounted
Weight: 139 kg
Construction: Aluminum block and head
Displacement: 2991 l
Bore x Stroke: 90.0 mm x 58.8 mm
Compression: 11.5:1
Valvetrain: 4 valves / cylinder, DOHC
Fuel feed: Lucas Fuel injection
Spark plugs: Champion
Aspiration: Naturally Aspirated
Power: 530 bhp at 11600 rpm
Torque: 395 Nm at 9600 rpm
Image by LAT/WilliamsF1
---
---