Ferrari 126C4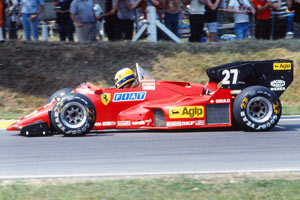 Active: 1984
Team: Scuderia Ferrari SpA

Designer: Harvey Postlethwaite
Drivers: Michele Alboreto (27), René Arnoux (28)
The Ferrari 126C4 is the final evolution of the 126 design line. The car was good for a single win in the hands of Michele Alboreto. He won the Belgian GP at Zolder from pole position, notably the event where Ferrari driver Gilles Villeneuve was killed two years earlier, in 1982. Villeneuve back then was driving with number 27, the same as Alboreto's Ferrari in 1984. With just a single win, 4 second places and three thirds in the shadow of the dominant McLaren MP4-2, Ferrari finished runners-up in the championship after winning the constructors' championship twice, in 1980 and 1981.
Ferrari's 126 C4 chassis was little changed, but its engine was revised considerably. Among the changes were completely redesigned cylinder heads, a deepened crankcase and many other internal modifications. The transverse-mounted gearbox was heavily improved as well, with the resulting six-speed unit stronger and lighter than before.
For the 1984 season, six 126 C4 chassis were completed, ranging from numbers 126-071 to 126-076.
Specifications
Chassis: Type 633 monocoque in Kevlar-carbon fibre composite Front Suspension: Double wishbones, pull-rods Rear Suspension: Double wishbones, pull-rods Brakes: Ventilated cast iron discs, Brembo 4-piston cast aluminium callipers Steering: Rack and pinion Front Tyres: 25.0-9.0-13", Goodyear Rear Tyres: 26.0-15.0-13", Goodyear Wheels: split rims, front 12.5x13", rear 16.5x13" Fuel Tank: 220 litres, mid-mounted, 102 octane RON fuel Bodywork: Composite, only for side panelling
Transmission: Rear-wheel drive, multi-plate clutch, 633 5-speed gearbox + reverse, transverse in unit with limited-slip differential Gear Ratios: Variable depending on track
Dimensions
Length: 4,115 mm
Width: 2,125 mm
Height: 1,080 mm
Wheelbase: 2600 mm
Front track: 1785 mm
Rear track: 1665 mm Kerb Weight (with water and oil): 540 kg
Engine
Designation: Type 031, rear-mounted 120° V6
Construction: Aluminium alloy cylinder block and heads, aluminium WET liners, Water cooled Bore & Stroke: 81 x 48.4 mm
Unitary and Total Displacement: 249.40/1,496.43 cc Compression Ratio: 6.7:1
Max. Power Output: 660 bhp at 11,000 rpm in race tune, max. turbo pressure 3.2 bar Fuel Feed: Turbocharged, 2 KKK turbos mounted centrally above the engine, Lucas-Ferrari or digital Weber-Marelli indirect injection plus Emulsistem
Ignition: Single plug, Magneti Marelli electronic Lubrication System: Dry sump
Image shows Alboreto in action at the British GP of 1984, by Anthony Fosh
---
---