ATS D7 BMW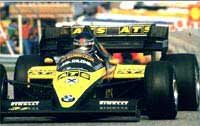 Active: 1984
Team: Auto Technisches Spezialzubehor

Team: Hans Gunther Schmid (TP), Gustav Brunner (TD)
Drivers: Manfred Winkelhock (14), Gerhard Berger (14 / 31)
Team name: Team ATS
The D7 is a slightly modified and slimmed down version of the D6, the team's first carbon fibre monocoque chassis. On top of that, the team secured a deal with BMW to have turbocharged engines as the Cosworths were rendered useless when one had winning ambitions.
Soon after Brunner designed the car, he left the team, just like many other members of the team, introducing the demise of the team.
The car suffered from many reliability issues, especially in the first half of the season. Gerhard Berger however scored the best finish of the year by finishing 6th in the Italian GP. Unfortunately for the team, because he was the second entrant in a year when ATS fielded only a single car, his 6th place was not eligible for a championship point.
Specifications
Chassis: Carbon fibre monocoque
Front suspension: Double wishbones, pull rod, coil springs
Rear suspension: Double wishbones, pull rod, coil springs
Transmission: Team ATS / Hewland 5 speed manual
Tyres: Pirelli
Engine
Designation: BMW M12 / M13
Configuration: 90° V6, turbocharger, mid-engine, longitudinally mounted
Displacement: 1499 cc
Construction: cast iron block, light alloy head
Bore / Stroke: 89.2 mm / 60.0 mm
Compression: 6.7:1
Valvetrain: 4 valves / cylinder, DOHC
Fuel feed: Bosch/Kugelfischer Fuel Injection
Aspiration: KKK Turbo
Power: 750 bhp / 560 KW at 10500 rpm
Torque: 480 Nm at 8500 rpm
---
---