Footwork FA12 Porsche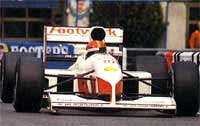 Active: 28-04-1991 - 16-06-1991
Team: Arrows Grand Prix International Ltd

Designers: Alan Jenkins
Drivers: Michele Alboreto (9), Alex Caffi (10), Stefan Johansson (10)
As the Arrows team was officially renamed Footwork after its Japanese primary sponsor, this car is named Footwork FA12. The FA12 only debuted at the third round of the 1991 season after the team had to redesign the car to be able to fit the large Porsche 3512 V12 engine into it.
Its first appearance was therefore at the San Marino Grand Prix, but there one of the cars was immediately destroyed in Tamburello Corner as the suspension failed at high speed. Driver Michele Alboreto escaped with a broken foot while Caffi failed to qualify.
Team-mate Alex Caffi then damaged a second new car at the next event in Monte Carlo and after he was injured in a road accident he was replaced the talented Swedish star, Stefan Johansson.
The most interesting part of this car is surely the Porsche engine, which was specifically developed for Formula One. At its introduction though, it was soon obvious it could not compete against the best engines of the time like the Ferrari and Honda V12. On top of that, it was unreliable and weight 189kg, including ancilliaries, while the Ferrari weighed only 150kg. Most particular was Porsche's design to draw power from the engine in the middle, contrary to the more conventional method of doing that at the rear. While this certainly had benefits, it created sealing problems that eventually caused reliability issues.
In June 1991 the team decided to replace the Porsche engines with Brian Hart-prepared Cosworth-Ford DFR V8 power units, creating the Footwork FA12C. The track record of the FA12 is therefore highly unimpressive, with 4 failures to qualify and 4 retirements.
Specifications
Tyres: Goodyear
Fuel capacity: 200 l
Engine
Designation: Porsche 3512
Type: 80° V12, naturally aspirated
Capacity: 3499 cc
Power: 680 Hp @ 13000 rpm
Mounting: Longitudinal, mid-car
---
---