Williams FW14B Renault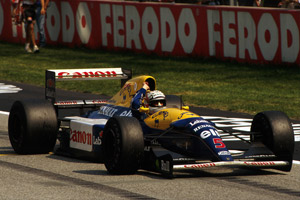 Active: 1992
Team: Williams F1

Designer: Patrick Head, Adrian Newey
Drivers: Nigel Mansell (5), Ricardo Patrese (6)
The Williams FW14B was a mostly mechanical evolution of the already succesful FW14. Just like its predecessor, it featured a semi-automatic gearbox, traction control and a much refined active suspension. Despite its speed, the FW14 was still too fragile to keep Senna from winning his second consecutive title with McLaren.
Development over the winter proved to be a major boost, helped by yet again a brilliant Renault engine, topping the competition with possibly 30 hp.
The season result was a staggering 10 wins out of 16 races, 15 pole positions and 10 fastest laps. The car proved more than capable for Mansell to finally secure his long awaited drivers' championship title, along with the constructors' title for Williams. In fact, the FW14B was initially planned to only race until August as the Williams FW15C was ready by then, but its reliability and pace proved it unnecessary until the next season.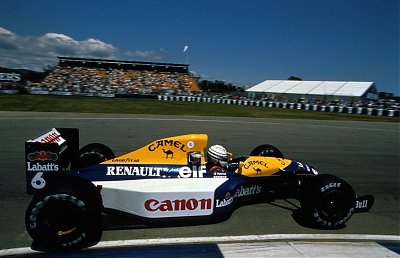 Chassis
Front suspension: Twin-link, pushrod-operated, hydro-pneumatic
Rear suspension: Twin-link, pushrod-operated, hydro-pneumatic
Suspension dampers: Williams
Wheel diameter: front: 13 inch / rear: 13 inch
Wheel rim widhts: front: 11.4 inch / rear: 16.3 inch
Tyres: Goodyear
Brakes: calipers: AP / discs: Carbone Industrie
Brake pads: Carbone Industrie
Steering: Williams
Radiators: Williams/Behr
Fuel tanks: ATL
Battery: Yuasa
Instruments: Magnetti Marelli
Transmission
Gearbox: Williams six-speed transverse semi-automatic
Driveshafts: Williams
Clutch: AP
Dimensions
Wheelbase: 2921 mm
Track: front: 1803 mm / rear: 1676 mm
Gearbox weight: 50 kg
Chassis weight (tub): 50 kg
Formula weight: 505 kg
Fuel capacity: 230 litres
Engine
Type: Renault RS3C/RS4
No. of cylinders: V10 (67°)
Maximum rpm: 14400
Fuel and oil: Elf
Sparking plugs: Champion
Fuel injection: Magneti Marelli
Ignition system: Magneti Marelli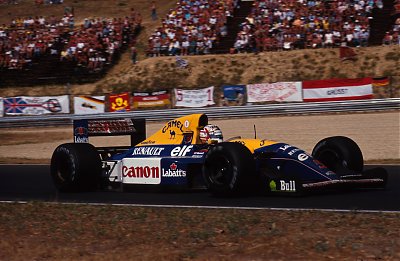 Pictures by Williams F1
---
---