Williams FW14B Renault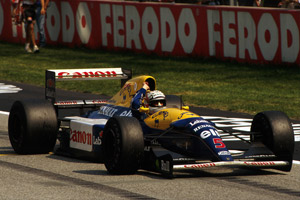 Active: 1992
Team: Williams F1

Designer: Patrick Head, Adrian Newey
Drivers: Nigel Mansell (5), Ricardo Patrese (6)
The Williams FW14B was a mostly mechanical evolution of the already successful FW14. Just like its predecessor, it featured a semi-automatic gearbox, traction control and a much refined active suspension. Despite its speed, the FW14 was still too fragile to keep Senna from winning his second consecutive title with McLaren.
Development over the winter proved to be a major boost, even though aerodynamically it was very much an evolution of the FW14, including a lot of geometric resemblance with the Leyton House cars, due to the influence of Adrian Newey.
The car was powered by another brilliant Renault engine. The French naturally aspirated V10 was rumoured to be topping the competition by 30 bhp. Patrick Head denied to confirm that number years later, but conceded that the Renault was certainly the strongest engine of the year: "It was certainly very good and stronger than the Honda that was powering the McLaren. The Honda was easily as powerful, if not more powerful, but it was immensely heavy, while the Renault was a lot heavier than the engines that were to follow it" (the RS4 introduced at the Hungarian GP weighed just under 140kg). "It was the best racing engine given the combination of power, weight, fuel consumption, installation and so on. It was also extremely reliable."
The key difference between the FW14 and this FW14B was the active suspension. Patrick Head revealed the system was essentially an evolution of a technology given to Williams by AP Racing: "We had been developing active suspension since 1985, which started off by AP coming to us. They were developing a system for road vehicles, but they decided that they weren't going to continue with it and rather than bury it, they contacted us as we were using AP brakes at the time.
"At first, it was purely mechanical, but we needed it in digital form so that we could control it electronically.
"It was basically aiming for target mean ride-heights front and rear. As the programme went on, control became more sophisticated. We could alter the attitude of the car on track and if the driver complained of understeer here or oversteer there, we could overcome the problem."
The season result was a staggering 10 wins out of 16 races, 15 pole positions and 10 fastest laps. The car proved more than capable for Mansell to finally secure his long awaited drivers' championship title, along with the constructors' title for Williams. In fact, the FW14B was initially planned to only race until August as the Williams FW15, a car built with active suspension in mind from the start was ready. Reliability and pace proved it unnecessary, so that concept was further developed towards the Williams FW15C that ran in the 1993 season.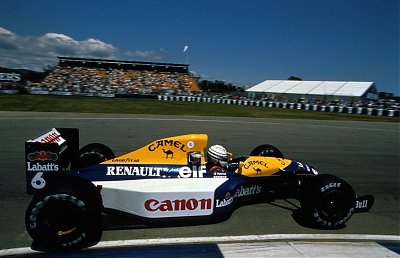 Chassis
Front suspension: Twin-link, pushrod-operated, hydro-pneumatic
Rear suspension: Twin-link, pushrod-operated, hydro-pneumatic
Suspension dampers: Williams
Wheel diameter: front: 13 inch / rear: 13 inch
Wheel rim widhts: front: 11.4 inch / rear: 16.3 inch
Tyres: Goodyear
Brakes: calipers: AP / discs: Carbone Industrie
Brake pads: Carbone Industrie
Steering: Williams
Radiators: Williams/Behr
Fuel tanks: ATL
Battery: Yuasa
Instruments: Magnetti Marelli
Transmission
Gearbox: Williams six-speed transverse semi-automatic
Driveshafts: Williams
Clutch: AP
Dimensions
Wheelbase: 2921 mm
Track: front: 1803 mm / rear: 1676 mm
Gearbox weight: 50 kg
Chassis weight (tub): 50 kg
Formula weight: 505 kg
Fuel capacity: 230 litres
Engine
Type: Renault RS3C/RS4
No. of cylinders: V10 (67°)
Maximum rpm: 14400
Fuel and oil: Elf
Sparking plugs: Champion
Fuel injection: Magneti Marelli
Ignition system: Magneti Marelli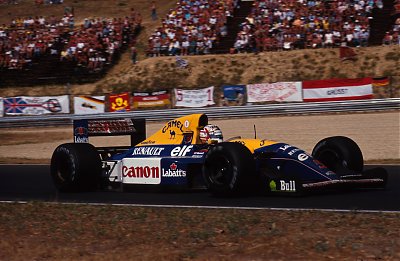 Pictures by Williams F1
---
---