BMW Sauber C29 Ferrari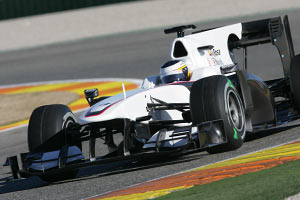 Active: 2010
Team: BMW Sauber F1

Team: Peter Sauber (TP), Monisha Kaltenborn (MD), Willy Rampf (TD), Christoph Zimmermann (CD), Seamus Mullarkey (HA)
Drivers: Pedro De La Rosa (26), Kamui Kobayashi (27)
After BMW's pullout and a lot of uncertainty, Peter Sauber managed to buy back his team, based in Hinwil. By that time, the workforce had shrunk from 388 to 260 in the light of the cost reductions that the FIA imposed on the teams. With this number and with the car development full speed ahead, the team focuses on 2010.
As the team didn't request a name change, the team continued as BMW Sauber, and the car BMW Sauber C29, in line with Sauber's traditional naming scheme. Due to the team's unchanged name, this car has a rather odd name as it is powered by Ferrari.
Technical analysis
Even though BMW decided halfway through the season to pull out, car development still went on, and the C29 is a result of the continuous development of the BMW Sauber F1.09. At its first run at Valencia on 1 February, its front wing has early been developed, inspired by the Brawn design of 2009. All season long, BMW have experimented with front wings and end plates, and hence did very well know what didn't work.
The nose cone is pulled up just a little bit extra after a similar update was already done on the 2009 car. The upper side of the nose is now nearly flat, from nose tip to the driver's cockpit. The longer front wing supports are carefully sculpted to better condition the airflow under the nose.
The front suspension was modified and features a separate steering arm, also to help the front wing to work more efficiently.
Also following Brawn's example, the sidepods have smaller air inlets and large sidepod panels, here with the mirrors mounted atop of them. Todays the rear, the sidepods have a steep slope to provide a better airflow towards the rear wing. As a result, most of the rear suspension arms are open to the airflow. Again, careful sculpting in this area optimize the efficiency of the new double deck diffuser.
Specifications
Chassis: Carbon-fibre monocoque
Suspension: Upper and lower wishbones (front and rear), inboard springs and dampers, actuated by pushrods (Sachs Race Engineering)
Brakes: Six-piston brake callipers (Brembo), carbon pads and discs (Brembo, Carbon Industries)
Transmission: Ferrari 7-speed quick shift gearbox, carbon, longitudinally mounted, carbon-fibre clutch
Chassis electronics: MES
Steering wheel: BMW Sauber F1 Team design and construction
Tyres: Bridgestone Potenza
Wheels: OZ
Dimensions
Length: 4,940 mm
Width: 1,800 mm
Height: 1,000 mm
Track width, front: 1,495 mm
Track width, rear: 1,410 mm
Weight: 620 kg (incl. driver, tank empty)
Engine
Designation: Ferrari 056 engine
Type: Naturally aspirated V8, cylinder angle 90 degrees
Cylinder block: Sand cast aluminium
Valves / valve train: 32 / pneumatic
Displacement: 2,398 cc
Bore: 98 mm
Weight: > 95 kg
Injection: Electronic injection and ignition
---
---