McLaren MP4/25 Mercedes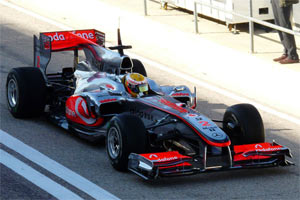 Active: 01-02-2010 - 2010
Team: McLaren International Ltd

Team: Paddy Lowe (Engineering Director), Neil Oatley (Design & Dev director), Simon Lacey (HA), Tim Goss (CE), Mark Williams (Head of Vehicle Engineering), Martin Whitmarsh (TP), Jonathan Neale (MD)
Drivers: Jenson Button (1), Lewis Hamilton (2)
McLaren's 2010 contender is visually very different from its predecessor. The change was to be expected though as the team struggled badly with the MP4/24, mainly due to a bad weight distribution.
The team is also once more allowed to have numbers 1 and 2 on the car as Jenson Button, the World Champion of 2009 joins the team as he decided to leave Brawn GP. The 30-year old Briton faces his five year younger countrymen who was champion in 2008.
Technical analysis
Just as at Ferrari, the new McLaren was designed with a nose lifted up higher and wider than on the MP4/24. While last year's Brawn was highly successful with the low nose to carry ballast, this year's reduction of front tyre width reduces this need to carry weight at the front of the car.
As the nose went up, more space is available under it. McLaren decided to design a snow-plough device, just like Williams used last year to provide better airflow under the nose cone and towards the rear end of the car.
The front wing is a visible evolution of a special version last year that was raced occasionally. The upper deck specifically is mounted to hang over the inner plate of the front wing endplates.
In the centre of the car, the team have added small barge boards just as with Ferrari's F10. These boards are located just ahead of the zone where a minimum radius of bodywork is specified by the regulations.
A very aggressive approach has also been chosen in the sidepod area where more compact solutions were possible due to leaving out - its highly succesful - KERS this year. The sidepod cooling holes are positioned high above the ground and are nearly rectangular in shape, pushing the cooling system further to its limits.
The rear end of the sidepods shows another departure from recent design approaches, as the team have chosen for a steep downward slope, instead of a an undercut. In fact the approach is somewhat similar to the Red Bull RB5, while many thought this design was not going to be seen anymore. It was generally believed that this approach is not optimal for a double deck diffuser car.
Specifications
Monocoque: McLaren-moulded carbonfibre composite incorporating front and side impact structures
Front suspension: Inboard torsion bar/damper system operated by pushrod and bell crank with a double wishbone arrangement
Rear suspension: Inboard torsion bar/damper system operated by pushrod and bell crank with a double wishbone arrangement
Suspension dampers: Koni
Electronics: McLaren Electronic Systems control units incorporating electronics for chassis, engine and data acquisition. McLaren Electronic Systems also supplies the electronic dashboard, alternator voltage control, sensors, data analysis and telemetry systems
Bodywork: Carbonfibre composite. Separate engine cover, sidepods and floor. Structural nose with intergral front wing. Paint solutions provided by AkzoNobel Car Refinishes using Sikkens Products
Tyres: Bridgestone Potenza
Radio: Kenwood
Race wheels: Enkei
Brake calipers: Akebono
Master cylinders: Akebono
Batteries: GS Yuasa Corporation
Steering: McLaren power-assisted
Instruments: McLaren Electronic Systems
Transmission
Gearbox: McLaren-moulded carbonfibre composite. Integral rear impact structure
Gears: Seven forward and one reverse
Gear selection: McLaren seamless shift, hand-operated fly-by-wire
Clutch: Carbon/carbon, hand-operated fly-by-wire
Engine
Type: Mercedes-Benz FO 108X
Capacity: 2.4 litres
Cylinders: 8
Maximum rpm: 18,000
Bank angle: 90°
Piston bore maximum: 98mm
Number of valves: 32
Fuel: ExxonMobil High Performance Unleaded (5.75% bio fuel)
Spark plugs: NGK racing spark plugs specially designed for Mercedes-Benz F1 engine
Lubricants: Mobil 1 – for higher performance, lower friction, better protection, cooling and wear resistance
Weight: 95kg (minimum FIA regulation weight)
Image by Craig Scarborough
---
---