Virgin Racing VR-01 Cosworth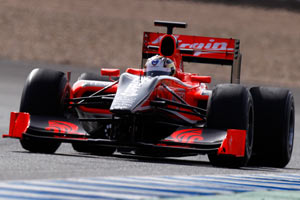 Active: 2010
Team: Marussia F1 Team

Team: Nick Wirth (TD)
Drivers: Timo Glock (24), Lucas Di Grassi (25), Andy Soucek (test)
The VR-01 is the first of a generation of race cars designed entirely in the digital domain using CFD (Computational Fluid Dynamics). It is the brainchild of Virgin Racing's Technical Director, Nick Wirth, who gained an international reputation for pioneering a purely CFD approach to car development, wholly designing, building and testing race cars in computer simulation without the need for expensive, resource-heavy scale-model wind tunnel testing.
Nick Wirth's design team at Wirth Research in Bicester, UK, started putting the basic layout of the VR-01 together in the early part of 2009 in order to hit the ground running should the team's 2010 entry be successful. 12 days after the team was accepted into the Championship, the design of the monocoque surfaces was locked down and a race against time was underway.
The car was launched on 3 February in a somewhat failed online event. It made its track debut 2 days later at Silverstone. At its first official tests, the car suffered from reliability problems, including a broken front wing and several hydraulic issues that hampered the team's progress towards the start of the 2010 season. Because of these delays, Virgin decided to only introduce its new aerodynamic package at the first GP of the season, rather than testing it beforehand.
Technical analysis
Right off the start of its media campaign, Virgin made it no secret that Wirth Engineering was going to design the car completely with CFD utilities. The team believe it to be the most cost effective solution, and have proved in Le Mans that such an approach is now flawed beforehand.
The result is a refreshing car with a sharp nose, followed by the typical Red Bull V-nose that most of the teams copied on their 2010 challengers. A simple front and rear wing were present at the launch, while the sidepods' deceiving simplicity demonstrates the car's well thought out concept.
Continue to the full technical analysis of the VR-01
Chassis
Construction: Virgin Racing carbon fibre construction monocoque and nosebox
Wishbones: Virgin Racing carbon fibre construction with titanium flexure joints
Uprights: Virgin Racing aluminium alloy construction
Dampers: Penske
Wheels: BBS
Tyres: Bridgestone Potenza
Fuel cell: 'FT5' safety specification
Fuel capacity: In excess of 200 litres
Calipers: AP Racing 6 pot calipers
Discs/pads: Hitco Carbon-Carbon
Steering wheel: Virgin Racing carbon fibre construction
Power steering: Virgin Racing hydraulic steering assist
Driver seat: Anatomically formed carbon composite
Seat belts: Six-point harness (75mm shoulder straps with HANS system)
ECU and logging system: FIA standard ECU & FIA homologated electronic & electrical system
Transmission
Gearbox: Virgin Racing precision aluminium construction with 7-speed, longitudinally mounted Xtrac internals
Differential: Electronically controlled hydraulic differential
Gear Selection: Paddle operated hydraulic shift system with "seamless shift"
Clutch: AP Racing
Driveshafts: One–piece driveshafts with integral tripod joints
Dimensions
Overall Length: Approx 5500 mm
Overall Height: Approx 950 mm
Overall Width: Approx 1800 mm
Wheelbase: Approx 3200 mm
Engine
Designation: Cosworth CA2010
Duty Cycle Type: 4 stroke reciprocating piston, normally aspirated
Configuration: 8 cylinders in banked V configuration with an angle of 90 degrees
Construction: Cast aluminium alloy cylinder block and head, forged aluminium pistons, steel crankshaft
Capacity: 2,400cc
Valves: 32 with pneumatic valve springs
Maximum Speed: Limited to 18,000rpm
Timing: Double overhead cams driven via compliant gear from crankshaft
Mass: In excess of 95kg
Cylinder Bore: Less than 98mm
Fuelling: 8 injectors supplied by a pressurized system at 100bar
Ignition: 8 ignition coils each driving single spark plug
Lubrication: Dry sump
Spark Plugs: Champion
---
---