Arrows A2 Cosworth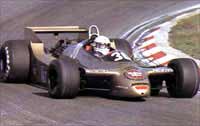 Active: 01-07-1979 - 07-10-1979
Team: Arrows Grand Prix International Ltd

Team: Tony Southgate (TD), Dave Wass (CD)
Drivers: Riccardo Patrese (29), Jochen Mass (30)
Team name: Warsteiner Arrows Racing Team
The Arrows A2 was a radical car in only the team's second year in Formula One. The car was designed to make extensive use of ground effect, even having the engine inclined by 4 degrees, creating a car that is effectively a wing itself.
Just like the Lotus 80 it was designed to run without wings, but it soon appeared that on track the ground effect was less than expected and too variable for the drivers to get comfortable in the car. Arrows quickly realised that and started designing their next car early after its introduction.
The A2 competed in just the last 8 races of 1979, replacing the Arrows A1B. Jochen Mass made it to the finish twice in 6th place, but other than that no points were scored.
Specifications
Chassis: Monocoque
Front suspension: Rocker arms, lower wishbones, inboard coil springs
Rear suspension: parallel bars, coil springs
Steering: rack-and-pinion
Brakes: ventilated discs, all-round
Gearbox: Hewland 5 speed Manual
Drive: Rear wheel drive
Dimensions
Weight: 591 kg
Wheelbase: 2718 mm
Track: front/rear): 1153 mm (45.4 in) / 1549 mm (61 in)
Engine
Type: Ford Cosworth DFV 90º V8
Location: Mid, longitudinally mounted
Construction: Aluminium block and head
Displacement: 2.993 liter
Bore / Stroke: 85.7 mm / 64.8 mm
Compression: 11.5:1
Valvetrain: 4 valves / cylinder, DOHC
Fuel feed: Lucas Fuel Injection
Aspiration: Naturally Aspirated
Power: 485 bhp @ 10600 rpm
Torque: 353 Nm @ 8500 rpm
---
---