Renault RS10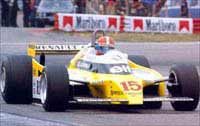 Active: 1979
Team: Renault F1

Designer: François Castaing (TD), Michel Tétu (CD), Marcel Hubert (CA)
Drivers: Jean-Pierre Jabouille (15), René Arnoux (16)
In 1966, when the formula was changed allowing for 3 liter engines a provision was made for 1.5 liter supercharged engines. With no takers amongst the current engine suppliers and the tremendous success of the Ford-Cosworth it was left to an outsider, yet one with a history that traced back to the first Grand Prix to show a third way. Renault had been trying to win Le Mans with a turbo-charged engine but was suffering from cracked pistons. Bernard Dudot was sent to Garrett AiResearch to study the fine art of turbo-charging. In 1979 the Renault turbocharged engine found its way into a Grand Prix car.
Renault introduced the RS10 ground-effect car at Monaco 1979. Later that year, Jean-Pierre Jabouille scored the first win ever for a turbocharged car in Formula One in the French Grand Prix at Dijon-Prenois later that year, a race that was also memorable for the famous last-lap fight between Gilles Villeneuve's Ferrari and Arnoux in the second Renault.
After the Renault turbo had a huge advantage in the thin air at Kyalami in South Africa, rival teams quickly realised a turbo engine was the way to go. In 1982, Ferrari and BMW were the first to join the turbo club. It was thought by some that turbocharged engines would allow large manufacturers to leapfrog the smaller British teams and their acknowledged leadership in chassis design.
Specifications
Car: Renault RS10
Engine designation: 90° V6
Aspiration: Turbocharged with two KKK Turbos
Bore X Stroke: 86 x 42,8 mm
Capacity: 1.492 cc
Power: 500 bhp at 11.000 rpm
Fuel feed: Kugelfischer Fuel injection
---
---