Williams FW07D Cosworth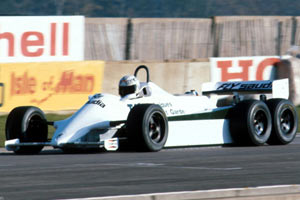 Active: 11-1982
Team: Williams F1

Team: Frank Williams (TP), Patrick Head (TD), Neil Oatley (CD), Frank Derney (CA), Alan Challis (CM)
Drivers: Alan Jones, Jonathan Palmer
The FW07D is a modified Williams FW07 created as a prototype to run 6 wheels on a car. It was Williams' first try of the six-wheeler, adding another rear axle to a regular FW07 to have 4 driven rear wheels.
Patrick Head, the team's technical director, noted: "When the flat-bottomed cars came in, engine power suddenly took on much greater significance and that favoured the turbos from Renault, Ferrari and BMW. We didn't have a turbo in those days. We'd had a brief discussion with BMW about using theirs, but thought it too pricey so relied on the Cosworth DFV that we'd had in 1979, with less than 500 horsepower."
"We had to think of other ways in which to increase our straight-line speed and we focused on reducing the frontal area. In those days the rear wheels were enormous and caused a large proportion of our aerodynamic drag. The lift-to-drag ratio on our Williams FW08 was about 7.5 and Frank Dernie came up with a quarter-scale model of the six-wheeler, which used four front wheels at the back, with a lift-to-drag ratio of about 12.5. So, clearly, the idea had a lot of potential."
Williams was assisted by Hewland Engineering on the transmission. The March 0-2-4 car was being hill-climbed by Roy Lane at that time and its FT gearbox first-gear often stripped because the normal wheelspin safety-valve had been removed by 4x4 startline grip. Head was subsequently advised to use the more robust DG gearbox, allied to smaller final drivers.
The car was tested in November 1982 at Donington Park, England with Alan Jones behind the wheel. The test was short, but among the tests were a few attempts for a standstill start, and in both attempts the car launched off like a bullet without any wheelspin. Palmer tested at Silverstone in the wet and was very quick, up to a point where the team believed it could run slick tyres on the second rear axle since the track got drained by the wet tyres on the first two axles. Following concerns from Patrick Head on cornering performance, the team tested again at Croix-en-Ternois, France where Palmer lapped as quickly as the new four-wheeled Williams FW08. The team afterwards chose to continue with the programme by modifying an FW08 for six-wheels, effectively creating the Williams FW08B.
Specifications
Chassis: Aluminum monocoque
Suspension: doubles wishbones, push-rod actuated coil springs over shock absorbers, anti-roll bar
Steering: Rack-and-pinion, by Williams/Knight
Brakes: Vented discs, all-round, by Lockheed, pads by Ferodo
Gearbox: Hewland 5-speed manual
Drive: Rear wheel drive on all 4 rear wheels
Clutch: Borg & Beck
Fuel: Mobil
Oil: Mobil
Dampers: Koni
Tyres: Goodyear
Battery: Panasonic
Engine
Configuration: Ford Cosworth DFV 90º V8
Location: Mid, longitudinally mounted
Weight: 168 kg
Construction: Aluminum block and head
Displacement: 2993 cc
Bore x Stroke: 85.7 mm x 64.8 mm
Compression: 11.5:1
Valvetrain: 4 valves / cylinder, DOHC
Fuel feed: Lucas Fuel injection
Spark plugs: Champion
Aspiration: Naturally Aspirated
Power: 510 bhp at 11200 rpm
Torque: 353 Nm at 8500 rpm
Image courtesy of Williams/Sutton
---
---