Ferrari 126C2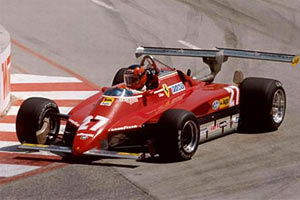 Active: 1982
Team: Scuderia Ferrari SpA

Team: Enzo Ferrari (TP), Harvery Postlethwaite (TD), Mauro Forghieri (CD)
Drivers: Gilles Villeneuve (27), Didier Pironi (28), Patrick Tambay (27), Mario Andretti (28)
Chassis built: 8 (named 055, 056, 057, 058, 059, 060, 061, 064)
Sponsors: FIAT , Agip, Arexons, Brembo, Longines, Olivetti, SKF
Only tragedy saw Ferrari lose out on what looked like a sure-fire Drivers' title in 1982. On May 8, one of Ferrari's and the world's most popular drivers Gilles Villeneuve was killed in practice. Barely three months later, Didier Pironi, who had a very strong lead in the rankings having won Imola and Zandvoort, was severely injured in the German Grand Prix warm-up and had to pull out of the rest of the season. The 126C2 proved itself to be quite a competitive car and in the end, won the Constructors' title, thanks in part to Patrick Tambay (first at Hockenheim) and Mario Andretti, who were called in to replace the two unlucky drivers.
The car was a development of the previous model but was about 20 kg lighter. It retained the engine solution with twin overhead compressors with just one wastegate valve. Each compressor received the exhaust gas from a line of cylinders and fed the opposite line to achieve a kind of fluid dynamic balance. The race for power had also begun and this was achieved by increasing the supercharged pressure.
Specifications
Chassis: Type 631, monocoque, mixed aluminium-carbonfibre honeycomb and HEXCEL base material
Front Suspension: Independent, twin wishbones, inboard springs over telescopic shock absorbers, anti-roll bar
Rear Suspension: Independent, twin wishbones, inboard springs over telescopic shock absorbers, anti-roll bar
Brakes: ventilated cast iron discs all round, Brembo aluminium callipers
Steering: Rack and pinion
Kerb Weight (with water and oil): 595 kg
Fuel Tank: 240 litres (102 octane RON fuel and Avgas) by Pirelli
Bodywork: Composite single-seater body
Radiators: Autokuhler / Valeo / Serck / Beher
Tyres: Goodyear
Battery: Verley
Instruments: Borletti
Transmission: Rear-wheel drive, multi-plate clutch, reduced width 025 5-speed gearbox + reverse, transverse in unit with ZF limited-slip friction plates differential
Gearbox weight: 45 kg
Gear Ratios: Variable depending on track
Tub weight: 40 kg
Dimensions
Wheelbase: 2,657.8 mm
Front / Rear track: 1,787.4 mm / 1,644 mm
Length: 4,333 mm
Width: 2,110 mm
Height: 1,025 mm
Front Tyres: 23.5-10.0-13"
Rear Tyres: 26.0-15.5-15"
Wheels: split rims, front 13", rear 15"
Engine
Designation: Ferrari Type 021
Type: Rear-mounted 120° V6, Light alloy cylinder block and heads, aluminium WET liners, water cooled
Bore & Stroke: 81 x 48.4 mm
Unitary and Total Displacement: 249.40/1,496.43 cc
Compression Ratio: 6.5:1
Max. Power Output: 580 bhp at 11,000 rpm
Power per liter: 388 bhp/l
Timing Gear: 4 valves per cylinder, 2 overhead cams per cylinder bank, gear driven off rear of the engine
Fuel Feed: Turbocharged, 2 KKK turbos and Lucas-Ferrari electronic indirect injection
Ignition: Single plug, Magneti Marelli Raceplex electronic capacitive discharge
Lubrication System: Dry sump
Pistons and rings: Mahle / Goetze
Bearings: Vandervell / Clevite
Weight: 140 kg
---
---