Williams FW24 BMW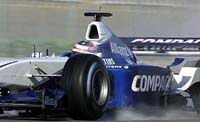 Active: 2002
Team: Williams F1

Designer: Patrick Head (TD), Gavin Fisher (CD), Geoff Willis (CA)
Drivers: Ralf Schumacher (5), Juan Pablo Montoya (6)
2001 had already shown the potential of the BMW engine, and with the new engine step there was once again a definite increase in power. The BMW engine at that time was without a doubt one of the best, if not the very best of the field. While the chassis itself had not evolved a lot because of the departure of chief designer Geoff Willis to BAR, the car often showed extraordinary performance in qualifying, especially at the hands of Montoya who gathered 7 pole positions in the season, including a run of five straight poles from the Monaco Grand Prix until the French Grand Prix. Montoya's last pole of the season, at Monza for the Italian Grand Prix, would break the seventeen year old record for the fastest average speed over a lap in F1 history, previously held by Keke Rosberg in the Williams Honda FW10.
The look of this car had not changed a lot compared to its predecessor, apart from the chimney exhausts that have been adopted by many other teams that or the next season.
This Williams was only good for one win, more especially a 1-2 podium finish in the second Grand Prix of the year. It did not win any more in the season mainly because of the arrival of Ferrari's F2002 which dominated the rest of the season.
Specification
Chassis: Carbon Aramid epoxy composite, by Williams F1
Drive: Rear
Clutch: AP
Gearbox: 7 speed Semi-automatic, by Williams F1
Brakes: Carbon discs and pads operated by AP callipers
Suspension: Williams F1
Weight: 600 kg including driver & camera
Wheels: O.Z., 13 x 12 front, 13 x 13.7 rear
Dimensions
Length: 4,540 mm
Front track: 1,460 mm
Rear track: 1,400 mm
Wheelbase: 3,140 mm
Engine
Designation: BMW P81
Type: 90° V10, naturally aspirated
Displacement: 2998 cc
---
---