Williams FW25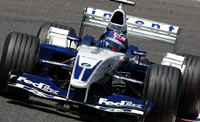 Active: 2003
Team: Williams F1

Designers: Patrick Head (TD), Gavin Fisher (CD), Jason Sommerville (CA), Nick Alcock (CA)Drivers: Juan Pablo Montoya (3), Ralf Schumacher / Mark Gene (4)
Because BMW had complaints about the FW24, the new 2003 car is a complete new design, although there are several similarities between this car and its predecessor. The car struggled to find pace in the opening races of the season and made BMW rethink its future in Formula One.
By the time the team went to Monaco, Michelin had developed a new wider front tyre that was meant to unleash the full potential of Montoya and the Williams car. The car immediately won that race, scored a double-podium at the Canadian Grand Prix, then go on to score dominant 1-2 victories at the European Grand Prix at Nurburgring, and the next race, the French Grand Prix at Magny-Cours.
Because of this, Juan-Pablo was in the race to win the F1 drivers crown until Ferrari and Bridgestone complained about the front tyres from Michelin. As a result, the FIA banned the tyre making clear any tyre may not at any time be wider than its maximum allowed width. Until that time, the Michelin front tyres were constructed in such a way that it was within the limits when new, but while being driven the tyre became slightly wider, giving the cars more grip.
As of that time, the Williams FW25 could not win any of the 6 remaining races in the season although Juan-Pablo was leading the Japanese GP before abandoning with hydraulical problems.
Three drivers would drive the FW25 in the 2003 season, as Williams' test driver Marc Gene replaced regular racer Ralf Schumacher for the Italian Grand Prix. The German was at the time still recovering from a crash at Monza the week prior to that race.
Specifications
Transmission: WilliamsF1
Clutch: Automotive Products
Chassis: Carbon/epoxy composite, manufactured by WilliamsF1
Cooling system: Two water radiators, two oil radiators either side of the chassis
Brakes: Carbon Industrie discs and pads operated by AP callipers
Lubricants: Castrol
Fuel: Petrobras
Wheels: O.Z.Racing; 13 x 12 front, 13 x 13.7 rear
Tyres: Michelin
Cockpit instrumentation: WilliamsF1 digital data display allied with BMW HUD system (Ralf Schumacher)
Driver's seat: Anatomically formed in carbon/epoxy composite material with Alcantara covering http://www.alcantara.it,600,800,MediaWindow);">www.alcantara.it Extinguished systems: WilliamsF1/Safety Devices
Paint system: PPG Industries
Weight: 600 kg including driver and camera
Engine Name: BMW P83
Type: normally aspirated V10, 90°, 2998 cc
Valves: four pneumatic valves per cylinder
Engine block: aluminium
Cylinder head: aluminium
Crankshaft: steel
Oil system: dry sump lubrication
---
---