Williams FW23 BMW

Active: 2001
Team: Williams F1

Designer: Patrick Head (TD), Gavin Fisher (CD), Geoff Willis (CA)
Drivers: Ralf Schumacher (5), Juan Pablo Montoya (6), Marc Gene (Test)
After a learning year in 2000, Williams and BMW set out in 2001 with the FW23 to be a race winning car and a major improvement over the FW22, relying on the experience of the partnership between the British team and the German engine supplier. The car was launched on 27 February at an event in Silverstone after which the car was shaken down by Ralf Schumacher.
As often with regulation changes, the team developed the FW22 by focusing on properly implementing the regulation changes. Geoff Willis said at the launch: "For 2001 we had the challenge of the new aerodynamic limitations and substantially more rigorous structural and impact tests. The FW23 is an evolution of the FW22 with development and improvements for the new engine installation and gearbox and a large number of changes reflecting the impact of the new regulations."
At the launch, it was immediately obvious that the rear end of the car had changed considerably, featuring a slimmer and cleaner coke bottle shape of the sidepods to the rear of the car. A simpler rear wing was also fitted, although that changed repeatedly as the season progressed.
The most important change for the team was probably the new BMW engine. Having made a cautious entry in F1 during 2000, the new engine was made considerably smaller and lighter than its predecessor, thus allowing the design team to modify the engine cover and outlet manifolds in a move to move the team up the grid, both on high speed as well as high downforce circuits.
All the work that was done proved fruitful, with the car excelling at high speed circuits because of the engine's raw power output. The FW23 was an absolute reference on high speed circuits. Proof of that was its 0.6s advantage on a qualifying lap around the high speed Hockenheim circuit.
Specifications
Chassis: Carbon Aramid epoxy composite, manufactured by WilliamsF1
Suspension: WilliamsF1
Steering: WilliamsF1
Cooling System: Two water radiators, two oil radiators either side of the chassis
Brakes: Carbon discs and pads operated by AP calipers
Lubricants: Castrol
Fuel: Petrobras
Wheels: O.Z.; 13 x 12 front, 13 x 13.7 rear
Tyres: Michelin Pilot
Cockpit Instrumentation: WilliamsF1 digital data display
Steering Wheel: WilliamsF1
Driver's Seat: Anatomically formed in carbon/epoxy composite material with Alcantara covering
Extinguisher Systems: WilliamsF1/Safety Devices
Paint System: DuPont Cromax
Transmission: WilliamsF1 semi-automatic
Clutch: AP
Weight: 600 kg including driver and camera
Overall Car Length: 4540 millimetres
Engine
Designation: BMW P80
Configuration: 90° V10, normally aspirated
Capacity: 2998 cc
Valve: Four per cylinder
Valve drive: Pneumatic
Engine block: Aluminium
Revolutions: 19000 rpm (limited by regulations)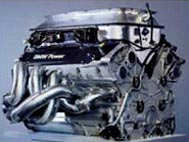 ---
---