Arrows A23 Cosworth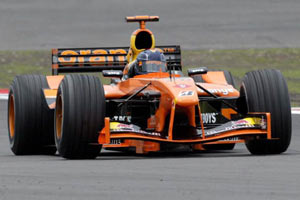 Active: 2002 - 28-07-2002
Team: Arrows Grand Prix International Ltd

Designer: Mike Coughlan (TD), Sergio Rinland (CD)
Drivers: Heinz-Harald Frentzen (20), Enrique Bernoldi (21)
Complete new looks, but due to the late finish of the car, there was very few testing done with this car. The A23 was designed at Leafield by a team of 20 design engineers, led by Technical Director, Mike Coughlan. The first man to drive the A23 was Enrique Bernoldi who took the wheel for a shakedown in the UK on February 3rd. The car was officially released with the new livery on the Wednesday before the season opening Australian Grand Prix.
The team was quite a mess because of its financial problems. Adding to that, the long announced contract for Verstappen was cancelled just ahead of the season in favour of Frentzen who became available after Prost went bankrupt. It was only several races in 2002 that rumours were spread about the financial woes of the team. After scoring just 2 points in 2002, the team pulled out of Formula One after the German Grand Prix.
As a consequence, Arrows went into liquidation. Paul Stoddart, the owner of Minardi at the time bought all the remains of the team, including the cars and its intellectual property. The cars were tested against the Minardi PS03 but were not put into action in a race.
Four years later, in 2006, Minardi itself also ceased to exist and the debuting Super Aguri F1 team bought the A23 cars and ran them (with some modifications) as the Super Aguri SA05 during the first half of the 2006 season.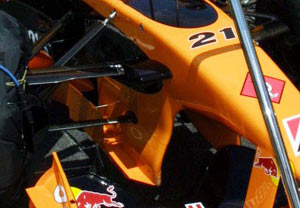 Despite the car's poor speed and engine (Jaguar didn't get too far either with the Cosworth CR-3), the particular twin keel design at the front was a remarkable innovation. During the 2001 championship season, the Rinland designed Sauber C20 had proven the concept. When Sergio Rinland fell out of grace at the Swiss based team, he moved on to Arrows, resulting in a much more elaborate twin keel structure than Sauber's version.
The introduction of the twin keel was initially introduced at Sauber after the FIA raised the minimum height of the front wing from 100mm to 150mm. In order to reduce efficiency losses, the previously common single keel was replaced by two keels at each side of the nose. While this effectively clears up the area under the driver's feet it introduced new complexity for the front suspension design and setup.
Compared to the Sauber C20, the Arrows keels also functioned as aerodynamic guiding panels as they extended to the reference plane (according to regulations, this is the lowest point above the ground where chassis elements are allowed).
Unsurprisingly, as Arrows collapsed halfway through the year, technical director Mike Coughlan joined McLaren where they could use the twin keel expertise for their future F1 cars.
Specifications
Designation: Cosworth CR-3
Type: Naturally aspirated V10 (72°)
Engine location: Mid , longitudinally mounted
Displacement: 2.998 liter
Valvetrain: 4 valves / cylinder, DOHC

---
---