ING Renault R29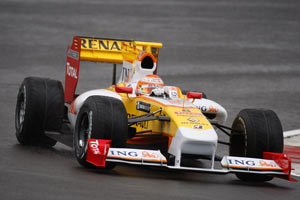 Active: 2009
Team: Renault F1

Drivers: Fernando Alonso (7), Nelson Piquet Jr. (8)
Team: Bob Bell (TD), Pat Symonds (Director of engineering), Rob White (Deputy managing director - engine), Tim Densham (CD), Dirk De Beer (HA)
Following the ING Renault F1 Team's improving performance in 2008, the new R29 is a development in design philosophy aimed at extracting maximum performance from the new aero regulations, slick Bridgestone tyres, and KERS system, whilst further developing the strong features of the R28.
With such radical rules coming into force, particularly with respect to aerodynamics, the team placed great emphasis on maximising the R29's time in the wind tunnel, with aero development already underway by February 2008. CFD has also played a considerable role in the design of the car and has been particularly valuable in understanding the interaction of the aerodynamic package as a whole.
There has been a concerted effort to save as much weight as possible on the R29 to allow for the introduction of the KERS system. As a result, the design team has moved towards using alternative materials and construction methods, such as the carbon-titanium gearbox casing, increased use of MMC aluminium and magnesium.
Renault started the design work of its KERS system in 2007 in conjunction with Magnetti-Marelli. The system consists of a motor-generator, which is connected to the front of the engine (this charges the battery on braking and releases the energy under acceleration), a battery pack located in the chassis and a KERS control unit.
The front end of the car is dominated by the 2009 aero specification wide front wing which has a driver controlled adjustable incidence flap. This looks very different to previous years being much closer to the ground and has much greater influence on the air flow over the tyres due to its increased span. Great attention has therefore been paid to the end plates which have become much more critical devices than they have been in previous years. The front end also has a more radical front suspension layout with new geometry including inclined wishbones and higher monocoque in order to maximise the new slick tyres and improve aerodynamic efficiency.
The rear of the monocoque under the bodywork has changed considerably with the integration of the KERS system, which has taken a lot of effort to package neatly for the minimum weight. The introduction of this new technology has also influenced the car's aero package with careful consideration paid to ensure sufficient cooling.
The bodywork appendages, such as winglets, flicks and chimneys have now largely disappeared with the 2009 aero regulations. The surfaces are therefore much simpler and more streamlined, although the R29 still incorporates the R28-type dorsal fin and flush exhaust exits seen on previous Renault F1 cars. The 2009 rear wing is narrower and higher and reverts back to the centrally-supported single pylon design first introduced on the R26.
The four-race gearbox has a brand new carbon-titanium main case to save weight, and an improved gearshift system developed on the R28, which has also reduced weight and improves performance. The R29 therefore shares little in common with its predecessor with much of the car designed from a clean sheet of paper. This is particularly true of the aerodynamic package where efforts in the past have concentrated on evolutionary design. The technical team has risen to the challenges of this shake-up in the rules and looks forward to seeing the results of their efforts on the racetrack when the R29 makes its debut this January.
On 19 January at the launch, the following comments were made:

Production timeline
08/01/2008 Wind tunnel work commences on R29 in Enstone
28/03/2008 Car specification first issue
31/03/2008 Gearbox design begun
11/04/2008 Rear suspension inboard parts defined
12/04/2008 Chassis design begun
02/05/2008 Gearbox production begun
20/06/2008 Location of KERS parts defined
23/06/2008 Front suspension geometry defined
24/06/2008 Chassis surfaces finalised by aero department
18/07/2008 Rear suspension geometry defined
27/08/2008 KERS battery pack prototype assembled
09/09/2008 Chassis manufacturing begun
17/09/2008 Gearbox machining begun
26/09/2008 Bodywork defined by aero department
12/11/2008 Car mock-up assembly begun
01/12/2008 Driver fits in first mock-up chassis
01/12/2008 Dyno test of gearbox internals in Viry
09/12/2008 Dyno test of gearbox with new case in Viry
12/12/2008 First chassis assembly completed
15/12/2008 First car build started (R29-01)
22/12/2008 First car fired up in workshop
29/12/2008 R&D testing of first car begun
05/01/2009 Final wind tunnel testing completed for first race package
07/01/2009 Driver fits in actual R29 chassis completed
14/01/2009 First straight-line running of R29
19/01/2009 First circuit test of R29 and official car revelation
18/03/2009 Cars leave for first race
29/03/2009 2009 Australian Grand Prix
Specifications
Chassis: Renault R29
Construction: Moulded carbon fibre and aluminium honeycomb composite monocoque, manufactured by the Renault F1 Team and designed for maximum strength with minimum weight. RS27 V8 engine installed as a fully-stressed member.
Front suspension: Carbon fibre top and bottom wishbones operate an inboard rocker via a pushrod system. This is connected to a torsion bar and damper units which are mounted inside the front of the monocoque. MMC aluminium uprights and machined magnesium wheels.
Rear suspension: Carbon fibre top and bottom wishbones operating angled torsion bars and transverse-mounted damper units mounted on the top of the gearbox casing. MMC aluminium uprights and machined magnesium wheels.
Transmission: Seven-speed semi-automatic carbon-titanium gearbox with reverse gear. "Quickshift" system in operation to maximise speed of gearshifts.
Fuel system: Kevlar-reinforced rubber fuel cell by ATL.
KERS: Motor generator unit driving into front of engine with batteries as an energy store.
Cooling system: Separate oil and water radiators located in the car's sidepods and cooled using airflow from the car's forward motion
Electrical: MES-Microsoft Standard Electronic Control Unit / Magnetti-Marelli KERS control unit.
Braking system: Carbon discs and pads (Hitco); calipers and mastercylinders by AP Racing.
Cockpit: Removable driver's seat made of anatomically formed carbon composite, with six-point harness seat belt. Steering wheel integrates gear change and clutch paddles, front flap adjuster and KERS energy release controls.
Car dimensions and weight
Front track: 1450 mm
Rear track: 1400 mm
Overall length: 4800 mm
Overall height: 950 mm
Overall width: 1800 mm
Overall weight: 605 kg, with driver, cameras and ballast
Engine
Designation: Renault RS27
Capacity: 2400 cc
Architecture: 90° V8, naturally aspirated
Weight: 95 kg
Max rpm: 18,000 rpm
Fuel: Total
Oil: Total
Battery: Renault F1 Team
---
---