McLaren MP4-24 Mercedes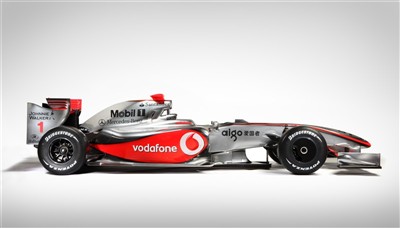 Active: 2009
Team: McLaren International Ltd

Team: Ron Dennis (CEO), Martin Whitmarsh (COO), Jonathan Neal (MD), Paddy Lowe (ED), Simon Lacey (HA), Pat Fry (CE),
Drivers: Lewis Hamilton (1), Heikki Kovalainen (2)
While still retaining the distinctive family look established with both the MP4-22 and MP4-23, the 2009 car is visually very different from its predecessors as a result of the heavily changed regulations.
The aerodynamic regulations were framed by the FIA and the Overtaking Working Group (helmed by Vodafone McLaren Mercedes engineering director Paddy Lowe, Ferrari's Rory Byrne and Renault's Pat Symonds) which met throughout 2007 in order to address the issues affecting passing in Formula 1.
The OWG's influence can be most clearly seen around the front wing, which has been widened, and the rear wing – which has been raised and made smaller to increase the wake behind it. Other factors affecting aerodynamics include the banning of ancillary appendages, the addition of driver-adjustable front-wing flaps and a heavily revised diffuser. Because of these changes, the car lacks cooling gills or other openings in the sidepods in favour of larger cooling openings ahead of the diffuser.
Less visible is the introduction of KERS which on the MP4-24 has been developed in collaboration with McLaren and Mercedes-Benz HighPerformanceEngines. The device enables the car to recover energy under braking, store the energy for a lap and release it when the driver presses a button on the steering wheel. Despite having worked on the system for more than two years - Mercedes was developing it before Formula One allowed it - the system did not make it to the first Grand Prix of the season.
MP4-24 specifications
Chassis: McLaren moulded carbon fibre/aluminium honeycomb composite incorporating front and side impact structures. Contains integral safety fuel cell
Front suspension: Inboard torsion bar/damper system operated by pushrod and bell crank with a double wishbone arrangement
Rear suspension: Inboard torsion bar/damper system operated by pushrod and bell crank with a double wishbone arrangement
Suspension dampers: Koni
Electronics: McLaren Electronic Systems control units incorporating electronics for chassis, engine and data acquisition. McLaren Electronic Systems also supplies the electronic dashboard, alternator voltage control, sensors, data analysis and telemetry systems
Bodywork: One-piece engine cover and sidepod covers. Separate floor section, structural nose with integral front wing
Tyres: Bridgestone Potenza
Radio: Kenwood
Race wheels: Enkei
Brake calipers: Akebono
Brake master cylinders: Akebono
Batteries: GS Yuasa Corporation
Steering: McLaren power-assisted
Instruments: McLaren Electronic Systems
Engine
Type: Mercedes-Benz FO 108W
Capacity: 2.4 litres
Cylinder configuration: 90° V8
Maximum rpm: 18,000 (FIA regulatory limit for 2009)
Piston bore maximum:; 98mm (FIA regulation)
Number of valves: 32
Fuel: Mobil High Performance Unleaded (5.75% bio fuel)
Lubricants: Mobil 1 – for higher performance, lower friction and better wear resistance
Weight: 95kg (minimum FIA regulation weight)
Transmission
Gearbox: Semi-automatic, 7 forward and one reverse
Driveshafts: McLaren
Clutch: Hand-operated
---
---