Williams FW31 Toyota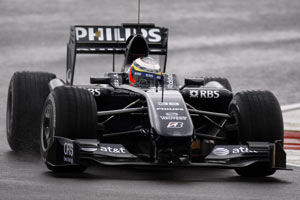 Active: 2009
Team: Williams F1

Drivers: Nico Rosberg (16), Kazuki Nakajima (17)
Team: Frank Williams (TP), Patrick Head (DE), Sam Michael (TD), Jon Tomlinson (CA), Rod Nelson (Chief operations engineer)
The Williams-Toyota FW31 is the first major clean-sheet car design for perhaps 30 years, driven by a wholesale change in Sporting and Technical Regulations. The new Sporting Regulations are intended to increase car reliability and further reduce costs, while the changes to the Technical Regulations have three objectives – reducing the role of aerodynamics in the car's performance, making overtaking easier and keeping lap times in check. These changes have had significant implications both on the appearance of this season's race car and in shifting its performance baseline.
Sam Michael reflected, "The changes in the aerodynamic regulations are the most profound and will have the most impact on lap time. There are many immediate visual changes, but also many smaller reductions around the car through new regulation wording and exclusion zones. Starting at the front, the front wing end plate design has changed as the interaction with the front tyre is completely different, and important to control. There are no longer large barge boards – although we managed to squeeze a small one in. The engine cover no longer has the traditional chimneys and louvers on top for cooling, and that has forced a higher and wider exit at the rear in order to provide an effective exit for hot air. Of course the re-introduction of slick tyres is another significant change as it has an influence on the overall dynamics of the race car. Finally, of course, the introduction of KERS is another aspect to the technical picture for the year ahead."
Michael went on to explain how the changes in aerodynamic rules, which see a much reduced rear wing geometry and conversely, a considerably wider front wing profile, fw31 angle 1with the front wing flap angle adjustable by the driver in the cockpit, would be the competitive focus for all the teams for much of the year ahead. "Aerodynamics is likely to be the key to the first two thirds of the season ahead," he said, while rating the change to slick tyres as another significant rule change for 2009. "Finding the optimum weight distribution to optimise tyre performance will also be a high priority going into 2009 and KERS will be the next contributor to race performance. " Michael confirmed.
The introduction of Kinetic Energy Recovery Systems (KERS) in 2009 is not an obligatory element of the regulations, but may provide an opportunity for teams to gain competitive advantage. The amount of energy that can be recovered and used may increase in future regulations, but the level set for the technology's introductory year, set against considerations of weight and reliability, make the initial advantages less than gains to be achieved through aerodynamics and mechanical dynamics.
Sam Michael contextualised this view, saying, "KERS in 2009 could be worth between 2/10ths and 3/10ths of a second per lap. However, once aero performance converges, KERS could start to become a greater performance differentiator and if the regulations give more scope to the technology, it could be worth anything up to a second a lap and it will be needed to win Grands Prix. The key decision for us with our system is to carefully balance the potential performance advantage with our ambition to improve an already strong reliability record from last season."
Specifications
Chassis construction: Monocoque construction fabricated from carbon aramid epoxy and honeycomb composite structure, surpassing FIA impact and strength requirements
Front suspension: Carbon bre double wishbone arrangement, with composite toelink and pushrod activated springs and anti-roll bar
Rear suspension: Double wishbone and pushrod activated springs and anti-roll bar
Transmission: Williams F1 seven speed seamless sequential semi-automatic shift plus reverse gear in a aluminium maincase, gear selection electro-hydraulically actuated
Clutch: AP Carbon plate
Dampers: Williams F1
Wheels: RAYS forged magnesium
Tyres: Bridgestone Potenza, F 350mm wide, R 375mm wide
Brake system: 6 piston AP calipers all round, Carbon Industrie carbon discs and pads
Steering: Williams F1 power assisted rack and pinion
Fuel system: ATL Kevlar-reinforced rubber bladder
Electronic systems: MES
KERS: Williams Hybrid Power's patented Magnetic Loaded Composite flywheel system
Cooling system: Marston oil, water, and gearbox radiators
Cockpit: Driver six point safety harness with 75mm shoulder straps & HANS system, removable anatomically formed carbon fibre seat covered in Alcantara. Safety Devices extinguisher systems
Dimensions
Weight: 605 kg with driver, camera and ballast
Wheelbase: 3100 mm
Length: 4800 mm
Height: 950 mm
Width: 1800 mm
Engine
Designation: Toyota 2.4L V8, 90° V angle, pneumatic valve train.
Fuel management and ignition systems: Toyota
Spark plugs: ND
Engine materials: include block and pistons in aluminium, crankshaft in steel billet, connecting rods in titanium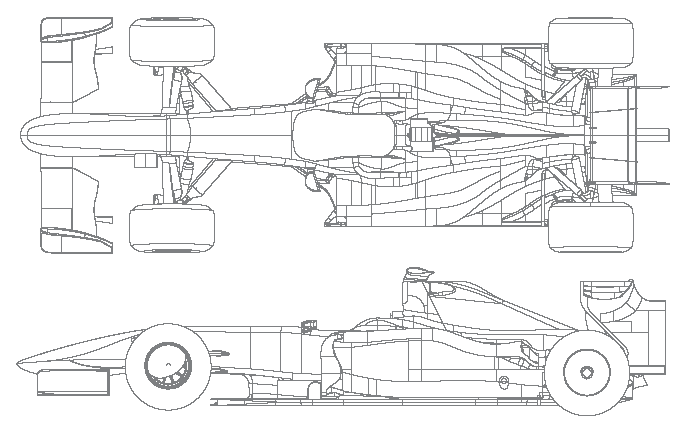 ---
---