Force India F1 VJM02 Mercedes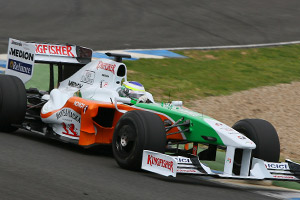 Active: 2009
Team: Force India F1

Team: Vijay Mallya (TP), Simon Roberts (CEO), Mark Smith (Design Director), Andy Stevenson (Team Manager), James Key (TD), Ian Hall (Project Leader), Simon Phillips (HA)
Drivers: Adrian Sutil (20), Giancarlo Fisichella (21)
The VJM02 marks a complete change in design philosophy, not only due to the major regulation changes. Thanks to a new partnership with Mercedes as agreed in November 2008, Force India says goodbye to Ferrari as an engine supplier and instead will have the complete drivetrain delivered by McLaren and Mercedes - including engines, gearboxes, hydraulics and KERS.
The team has also changed internally. After Mike Gascoyne left the team for being too imposing, design director Mark Smith has taken up more responsibility. Mark re-joined Force India in November 2007 to lead design and production of the VJM02. Mark has taken responsibility for the day to day running of the Design Office and Research and Development. He was assisted by technical director James Key and a small team spear-headed by 2009 project leader Ian Hall.
The new team immediately faced a stiff challenge to get the car ready in time. Most of the development was condensed into 5 months, resulting in not taking part of most winter tests due to still being in the development phase. Mark Smith explained on 1 March at the launch: "When we confirmed the partnership on 10 November 2008 we had to adapt our plans fairly significantly. It's not just a case of getting the new parts and installing them; when we changed the gearbox, it had slightly different suspension mountings and when we changed the rear suspension there was a necessary change on the front."
"Normally you would have started in August, so we have had to compress everything into five months. Everyone has really worked hard to make it work and we've got a potentially better package, so the change has been a positive rather than a negative."
The eventual car, despite its short development cycle, displayed several interesting bits during the first tests. The sidepods were shaped as tightly as possible, while most other teams tried to make the surface as smooth as they could. Just as with McLaren, the exhausts are located fairly backwards and point straight to the rear wing end plates. Having them located a bit higher above the sidepod surface immediately resolved the heat problems that several other teams had trouble coping with.
The front of the car draws immediate attention because of its high nose, in fact it's the highest of the 2009 field, yet it follows a trend to move away from the low noses that were developed in the years before. Also because of the higher nose cone, the front suspension has been redesigned with the steering arm not aligning the upper wishbone. The team is not the only one to have taken that route as it allows for the suspension and steering components to be located a bit lower inside the nose.
All in all, the new car was introduced with high aims. Team principal Vijay Mallya declared at the first test that there would have to be regular points finishes.
The VJM02 made its the track debut on 1 March at Jerez and despite some small problems ran reliably during its first public test. Further comments could be grabbed from the design team and the drivers:
Specifications
Chassis: Carbon fibre composite monocoque with Zylon legality side anti-intrusion panels.
Front suspension: Aluminium MMC uprights with carbon fibre composite wishbones, trackrod and pushrod. Inboard chassis mounted torsion springs, dampers and anti-roll bar assembly.
Rear suspension: Aluminium MMC uprights with carbon fibre composite wishbones, trackrod and pushrod. Inboard gearbox mounted torsion springs, dampers and anti-roll bar assembly.
Wheels: Forged wheels to Force India specification
Dampers: Penske
Dimensions
Wheel base: 3200mm
Front track: 1480mm
Rear track: 1420mm
Overall height: 950mm
Overall length: 4900mm
Overall weight: 605kg (with driver, by regulations)
Engine
Type: Mercedes-Benz FO 108W
Capacity: 2.4 litres
Cylinder configuration: 90° V8
Maximum rpm: 18,000 (FIA regulatory limit for 2009)
Piston bore maximum: 98mm (FIA regulation)
Number of valves: 32
Fuel: Mobil High Performance Unleaded (5.75% bio fuel)
Lubricants: Mobil 1 – for higher performance, lower friction and better wear resistance
Weight: 95kg (minimum FIA regulation weight)
Transmission
Gearbox: Semi-automatic, 7 forward and one reverse
Driveshafts: McLaren
Clutch: Hand-operated
---
---