Ferrari D50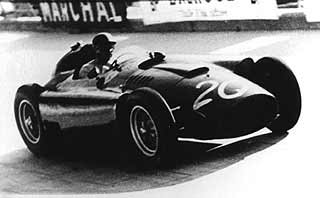 Active: 1955 - 1957
Team: Scuderia Ferrari SpA
Specifications
Chassis: Steel tube structure
Front Suspension: Double wishbones: double triangles, transverse lower leaf spring, telescopic inboard dampers connected to wheels by rocker arms. Rear Suspension: De Dion axle, transverse upper leaf spring, Houdaille lever dampers. Brakes: Drums on all four wheels with hydraulic control. Steering: Worm and sector. Front Tyres: Front 5.50x16"
Rear Tyres: 7.00x16" Englebert. Wheels: Light alloy wire wheels
Fuel Tank: 190 litres of mixture, rear mounted. Bodywork: Aluminium single-seat body. Single unit with false side fuel tanks with purely aerodynamic function between the wheels.
Transmission: Rear-wheel drive, dry, twin-plate clutch, rear transverse gearbox with 5 speeds + reverse, in unit with limited-slip differential
Gear Ratios: Variable depending on track
Dimensions
Length: 3,850 mm
Width: 1,448 mm
Height: 962 mm
Front Track: 1,270 mm
Rear Track: 1,270 mm
Kerb Weight: 640 kg (with water and oil)
Engine
Type: Lancia 90° V8, aspirated, front-mounted, light alloy cylinder block and head, press-fitted cast iron cylinder liners, 135 mm connecting rods, water cooled
Bore & Stroke: 76 x 68.5 mm
Unitary and Total Displacement: 310.75/2,485.98 cc
Compression Ratio: 11.9:1
Max. Power Output: 265 bhp at 8,000 rpm
Timing Gear: 2 valves per cylinder, 2 overhead camshafts per bank of cylinders, chain drive. Fuel Feed: 4 Solex 40 PIL vertical twin choke carburettors
Ignition: Twin-plug, 2 Marelli magnetos
Lubrication System: Forced with dry sump.
---
---