Arrows A1 Cosworth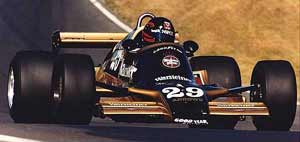 Active: 13-08-1978 - 08-10-1978
Team: Arrows Grand Prix International Ltd

Team: Tony Southgate (TD), Dave Wass (CD)
Drivers: Riccardo Patrese (35), Rolf Stommelen (36)
Chassis built: 3
After Arrows' first car, the Arrows FA1 was found in a London High Court to be too similar to the Shadow DN9, the Arrows team, built consisting mainly of former Shadow engineers, designed and built the Arrows A1 in a mere 52 days. It was introduced at the 1978 Austrian GP and allowed the team not to miss a single Grand Prix.
A total of three A1s were constructed. The A1 bore an obvious resemblance to the FA1 although it had a wider track, longer wheelbase, and inboard rear suspension. In its first outing, Patrese qualified well but was eliminated in an accident. This was to happen again at the next race in Holland. Patrese finally managed a good fourth at the final race of the year in Canada , as the car began to come on form.
The design was revised as the Arrows A1B for 1979 and an additional three cars were built to this specification.
Specifications
Engine: Cosworth DFV
Induction: mechanical injection
Total Time: 6-7 hours
Fuel System: Fuel Cell
Body material: fibreglass
Color: black/gold
Chassis material: aluminum
Front Suspension: rocker
Rear Suspension: rocker
Steering: rack and pinion
---
---