Arrows FA1 Cosworth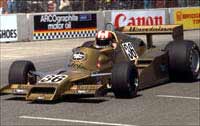 Active: 15-01-1978 - 30-07-1978
Team: Arrows Grand Prix International Ltd

Team: Tony Southgate (TD), Dave Wass (CD)
Drivers: Riccardo Patrese (35), Rolf Stommelen (36)
The teams first year, in 1978, was marked by a furious development pace brought on by legal controversy. The original Arrows FA1 was designed and built in 60 days, in time to make the second race of the season and qualify for the all-important FOCA money.
The car however was found to be too similar to the Shadow DN9 in a London High Court case brought by Shadow head man Don Nichols. The Arrows team afterall was created from a group of disgruntled Shadow engineers. However, knowing that it would lose the case, Arrows had its Arrows A1 ready immediately after the German GP so that it would not miss a race.
In the 10 Grand Prix the car contested, Riccardo Patrese made the podium once, securing a second place at the Swedish Grand Prix.
---
---