BAR 002 Honda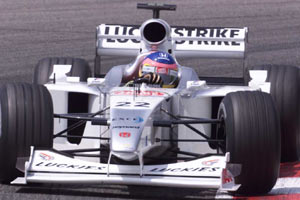 Active: 2000
Team: B.A.R Honda F1

Designer: Adrian Reynard, Malcolm Oastler (TD), Kazutoshi Nishizawa (Honda Racing TD)
Drivers: Jacques Villeneuve (22), Ricardo Zonta (23), Darren Manning (Test), Patrick Lemarie (Test)
The BAR 002 had its shakedown as early as 8 December 1999 and formally initiated the partnership between British American Racing and Honda Racing. This test marked the first time that Honda's new RA000E Formula 1 engine, newly developed and assembled at Honda R&D Tochigi, Japan, was installed in the new chassis for the 2000 season, BAR002. Jacques Villeneuve debuted the car shortly before 11am and continued to do 34 trouble free laps. Representatives from Honda at Silverstone included Takefumi Hosaka, F1 R&D Project Leader, and Kazutoshi Nishizawa, Honda Racing Development Technical Director, as well as engineers and mechanics primarily engaged in engine development.
Due to the reliability problems in their debut year, BAR focused on the mechanical parts of the car, ending up with a 2000 contender that visually looked very similar to the BAR001. The reduced weight of the engine and the chassis, along with a special front pushrod mounting allowed the team to perform better than in 1999.
Villeneuve immediately managed to finish 4th at the first race of the year. Although he failed to get on the podium, he scored 17 points while team mate Ricardo Zonta scored three. This put the team in 5th place in the constructors' standings.
Specifications
Wheels: OZ
Tyres: Bridgestone
Chassis: Reynard BAR carbon fibre
Gearbox: Reynard BAR longitudinal 6 speed
Dampers: Koni
Engine
Designation: Honda RA000E V10
Configuration: 90° V10
Displacement: 3000 cc
Power output: In excess of 800hp
Fuel and lubricants: Eneosu (Nippon Oil)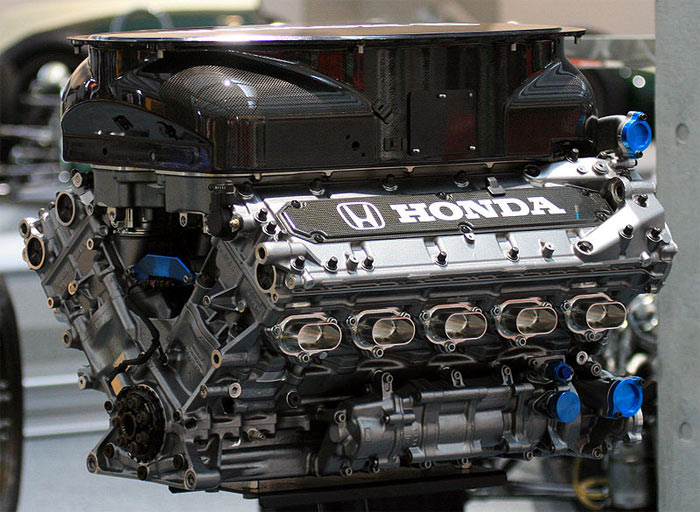 ---
---