McLaren MP4-15 Mercedes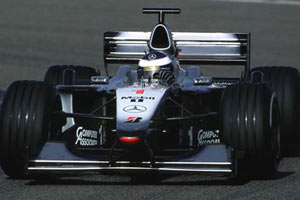 Active: 2000
Team: McLaren International Ltd

Drivers: Mika Häkkinen (1), David Coulthard (2)
Designers: Adrian Newey (TD), Neil Oatley (CD), Henri Durand (HA)
Team name: West McLaren Mercedes
Once again, team, engine builder and drivers retained stability, the driver pairing becoming the longest ever in Grand Prix racing during the year. The new car was presented on 3 January 2000 at the circuit of Jerez. Early in testing, the car proved fast with the race drivers and test driver Olivier Panis frequently showing fastest in testing.
The Newey design iteration, clearly a development of the successful MP4-14 featured hot air chimneys on the sidepods, an idea that was copied by all teams in the following seasons. At the front, the nose was lower than most competing cars and had been shortened compared to its predecessor. Ahead of the driver's helmet, the upper side required higher sides to conform to the regulations.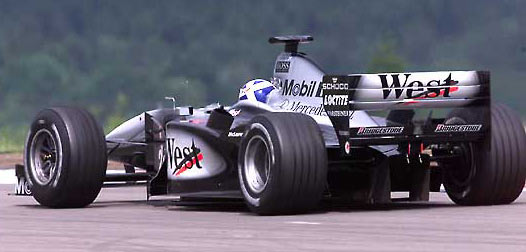 Despite its aerodynamic efficiency and novelties, the McLaren was simply too fragile and suffered far too many breakdowns during the season. Proof of that pace were Mika Häkkinen's three consecutive pole positions in the first three races, with Coulthard taking second place twice. However, in Australia both drivers failed to finish due to pneumatic valve failure. Hakkinen suffered engine failure in the second race, and Coulthard was disqualified, and with Michael Schumacher leading the two McLarens to the finish in the third race, the Ferrari driver had already built a huge advantage after only 3 races.
But then the advantage turned: Coulthard won in England, Hakkinen in Spain, Coulthard in Monaco and then again in France. In Austria, Hakkinen began the fight back, leading home his teammate, while Hakkinen won in Hungary and superbly in Belgium where he took the championship lead.
Unfortunately, a mechanical failure at Indianapolis virtually ended his chances. The team ended with its drivers 2nd and 3rd in the championship while McLaren was second in the constructor's championship. The West McLaren Mercedes MP4-15 was good for 11 times the fastest race lap out of 17 races, it led for 459 laps or 2230 km.
Images of a display MP4-15 are thanks to Craig Scarborough.
Specifications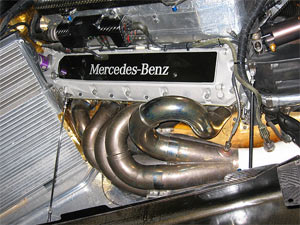 Chassis/body: carbon fibre monocoque
Suspension (fr/r): double wishbones, inboard push rod activated coil springs over dampers
Steering: rack-and-pinion
Brakes: vented carbon discs, all-round
Gearbox: 7 speed Semi-automatic
Drive: Rear wheel drive
Weight: 600kg
Engine
Designation: Mercedes Benz FO 110J
Type: 72º V10
Displacement: 2,997.1 cc
Aspiration: Naturally Aspirated
Location in chassis: Mid, longitudinally mounted
Construction: Light alloy block and head
Valvetrain: 4 valves / cylinder, DOHC
Crank angle: 144°
Bore: 93.50 mm
Stroke: 43.65 mm
Valvetrain: 4 valves per cylinder, pneumatically activated
Electronics: TAG System 2000
Power: 815 bhp / 600 kW @ 17,400 rpm
Compression ratio: 13.3:1
Weight: 92 kg
Width: 475 mm
Length: 570 mm
Height: 458 mm
Image courtesy of McLaren
---
---