Ferrari F1-2000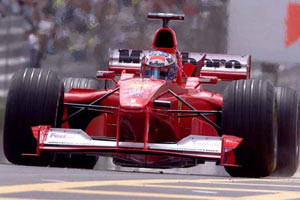 Active: 2000
Team: Scuderia Ferrari SpA

Drivers: Michael Schumacher (3), Rubens Barrichello (4)
Team: Rory Byrne (CD), Jean Todt (TP), Ross Brawn (TD)
Team name: Scuderia Ferrari Marlboro
The F1-2000 brought Ferrari the constructors championship as well as the drivers' title for Michael Schumacher and Ferrrari's first title since Jody Schekter in 1979. The car is a development of the Ferrari F300 and Ferrari F399, still featuring a high nose cone and a single keel front suspension. The sidepods feature a striking slope on the upper surface while the internal radiators to cool the engine have been split up to make the sidepod as small as possible. Both radiators are standing up straight, but the outermost one is angled more forward. The car also features exhausts exiting at the top of the sidepods, ahead and between the rear wheels.
Ferrari also put in a lot of effort to lower the car's centre of gravity with even the brake callipers being relocated to the bottom of the disc, rather than being positioned vertically halfway up the brake disc. Most of the gain however came from the new 049 engine after Ferrari decided to widen the cylinder bank angle to 90°, resulting in a lower centre of gravity, increased stiffness as well as a better firing balance.
The season proved an emotional rollercoaster. Schumacher managed a triple whammy (Australia, Brazil and San Marino) at the start, then won at the Nürburgring and Montreal, taking a comfortable lead. However, July turned out to be disastrous for him. He retired at Magny-Cours and was eliminated from the running right at the start at Zeltweg and Hockenheim. However, Barrichello saved his teams face in Germany with his first F1 success at the end of a thrilling wet race. Hakkinen took the win at Budapest and Spa. Schumacher and Ferrari arrived late at Monza but the Italian event marked the start of an extraordinary run: four consecutive poles and four wins for Michael who became World Champion at Suzuka with one race still to go. Ferrari crowned their season with the Constructors' title in Malaysia.
Specifications
Chassis: Carbon-fibre and composite honeycomb
Front Suspension: Independent, push-rod activated torsion arms
Rear Suspension: Independent, push-rod activated torsion arms
Brakes: Ventilated carbon-fibre discs
Tyres: Bridgestone
Wheels: 13" (front and rear)
Transmission: Rear-wheel drive, longitudinal semi-automatic sequential electronically controlled 7-speed gearbox + reverse, limited-slip differential
Dimensions
Length: 4,397 mm
Width: 1,795 mm
Height: 959 mm
Front Track: 1,490 mm
Rear Track: 1,405 mm
Kerb Weight (with water and oil): 600 kg (including driver)
Engine
Designation: Ferrari Typo 049
Configuration: 90° V10, die-cast aluminium (7 percent silicon)
Fuel & Lubricant: Shell
Total Displacement: 2,997 cc
Max. Power Output: over 770 hp
Length: 615mm to flywheel
Width: 597.6mm
Height: 365.5mm
Bore: 96.0mm
Stroke: 41.4mm
Conrod: 110.0mm
Compression ratio: 12.0 to 1
Weight: 100 kg , 106kg with clutch
Liners: Wet type, nikasil coated alloy
Crankshaft: Vacuum cast extruded billet
Pistons: Mahle forged Aluminium/beryllium (later banned)
Connecting rod: Forged titanium
Timing Gear: pneumatic valve gear, 40 valves
Fuel Feed: Magneti Marelli digital electronic injection
Ignition: Magneti Marelli digital electronic ignition
---
---