Prost AP03 Peugeot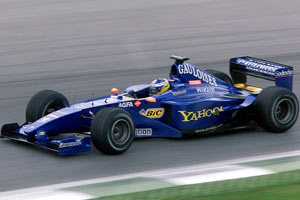 Active: 2000
Team: Prost Grand Prix

Designers: Alan Jenkins (TD), Loïc Bigois (CA), John Barnard
Drivers: Jean Alesi (14), Nick Heidfeld (15)
The AP03 is an example that a beautifully painted car is no guarantee to success. The car was, similar to the AP02 built by a team led by Loïc Bigois and supported by the consultancy of B3, the engineering company of John Barnard. It was the first Prost car to feature high engine exhausts, similar to the example set by Ferrari one year earlier.
Despite improvements on the Peugeot engine, the lack of investment from the French manufacturer proved to be an increasing problem. It lacked power, was far heavier than the competing engines and proved be very unreliable. The problem worsened when both parties came to blame each other for the poor performances and it eventually resulted in Peugeot leaving the sport. Its assets were consequently sold to Asiatech and Prost later signed a deal for Ferrari engines in 2001.
Joint owner of Prost in 2001, Pedro Diniz, confirmed later that "With Peugeot we broke 59 engines during 2000".
The AP03 was presented on February 1 at the circuit of Barcelona. The launch was transmitted online by Yahoo, the new main partner of the team. Later on, in October of that year, it was also announced that the AP03-01 was to be sold by an online auction on Yahoo.
Result wise, the AP03 was a huge disappointment for the team and a confirmation that Peugeot had not brought the French team anywhere else than the back of the grid. Mostly due to the terrible engine reliability, the car finished only 10 times from its 34 grand prix starts and was not good enough for any championship points. The highpoint of the season was Alesi's 10th place on the grid at Monaco and running fourth at Spa-Francorchamps before retiring.
Specifications
Chassis designation: Prost AP03
Weight: 600 kg
Gearbox: Prost/Xtrac 7-speed, Longitudinally mounted, semi automatic
Brakes: Prost Grand Prix
Calipers: AP Racing
Electric systems: 12 volts batteries
Wheels: BBS 13"
Tyres: Bridgestone
Fuel: Total
Downforce: Equivalent to 1.500 kg @ 300 km/h excluding car weight (600 kg)
Braking distance: 300 km /h to 60 km/h in 140 meters (in 3.5 seconds)
Engine
Designation: Peugeot A20
Type: 2,998cc V10 in 72°
Power: 800 hp @ 16 200 rpm
Valves: 4 per cylinder with pneumatic return
Injection: TAG
Ignition: TAG
---
---