Arrows A21 Supertec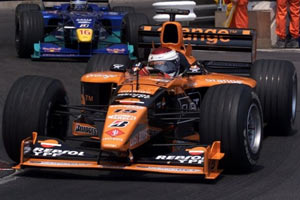 Active: 2000
Team: Arrows Grand Prix International Ltd

Team: Mike Coughlan (TD), Aghbal Hamidi (CA)
Drivers: Pedro De La Rosa (18), Jos Verstappen (19)
The Arrows A21 was a completely new design for Arrows and a very different car when compared to the competition. It's most striking feature is the low nose cone, seemingly inspired by the championship winning McLaren MP4-13. The choice was interesting nonetheless, as the top teams increasingly chose for high noses to improve airflow to the car's floor.
The clean design proved proved efficient enough to consistently mark high top speeds at most of the season's tracks. The pull rod at the front suspension is exclusive at Arrows as all other teams use a push rod design.
The two drivers together scored 7 points and missed out on many more due to reliability problems. Arrows ended the year in 7th place of the constructors' championship.
Specifications
Chassis: A22 Arrows manufactured Carbon Fibre Monocoque with crash resistant side laminates.Increased load rear roll structure.
Suspension: Inboard operated independent suspension; Carbon Fibre wishbones with double tether restraint system both front and rear.
Steering: Arrows rack and pinion with power steering option.
Cooling system: Separate oil and water radiators
Transmission: Arrows / XTrac 6-speed, semi automatic inline configuration. Carbon Fibre maincase and rear impact structure.
Clutch: Arrows Carbon multiplate
Brakes: Single 6 pot calipers front and rear
Gear Selection: Electro-hydraulic
Electronics: Arrows / PI Sigma
Fuel system: Arrows / ATL
Drivers Seat: Arrows carbon fibre
Cockpit Instrumentation: Arrows Data Display
Extinguisher System: Arrows single bottle system
Wheels: One piece Magnesium 13 x 12 front, 13 x 13.7 rear
Fuel: Repsol
Tyres: Bridgestone
Dimensions
Front Track: 1465mm
Rear Track: 1410mm
Wheelbase: 2995mm
Weight: 600kg including driver and camera(s) or ballast
Overall car length: 4430mm
Height: 1000mm
Width: 1798mm
Engine
Designation: Supertec FB02 (basically an evolution of the Renault RS9)
Configuration: 71° V10, naturally aspirated
Displacement: 3000 cc
Length: 623 mm
Width: 542 mm
Weight: less than 120 kg
Electronics: Magnetti Marelli
Power output: Around 750 hp
---
---