Arrows A22 Asiatech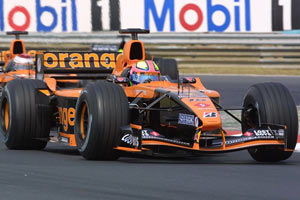 Active: 2001
Team: Arrows Grand Prix International Ltd

Team: Tom Walkinshaw (TP), Mike Coughlan (TD), Sergio Rinland (CD), Rob Taylor (HD), Nicolo Petrucci (HA), Michael Ainsley-Cowlinshaw (TM)
Drivers: Jos Verstappen (14), Enrique Bernoldi (15)
This car was an evolution of Aghbal Hamidi's A21, a car that performed well but with which the team suffered considerable bad luck. The Orange Arrows Asiatech A22 was to make an end to that, but the departure of chief aerodynamicist Hamidi proved not so easy to overcome. He was replaced by Nicolo Petrucci, but apart from that, the team was fairly stable and grew to around 300 staff members.
Things were even further complicated by the change of engine supplier, a considerable handicap for a resource limited team: "We need five designers to design a new installation, a new gearbox, new hydraulics," said Coughlan, "you have to start early in order to complete that in time without a big design team". The Supertec engines of 2000 were replaced by Asiatech. This in effect was the previous year's Peugeot engine, developed by the same staff with an investment from Asia, worth approximately $100 million. The team of 165 to 220 people was lead by Enrique Scalabroni, a former Williams designer. Most of the development time went into improving the reliability of the engines, namely by a redesign of conrods which were too flexible, better treatment of cylinders, a change of inlet admission and valve control systems. The maximum operating temperature was also raised from 105 to 120°C, allowing for smaller radiator inlets and hence less drag. Still, 40 unplanned engine changes over the year had to take place, limiting test time and producing early retirements in races.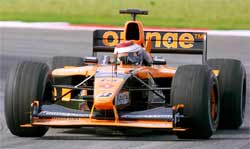 Additionally, the team opted to go for a smaller fuel tank, as they expected the new tires to have more grip but degrade faster. Michelin however produced the best of both worlds, after which Bridgestone adapted their philosophy. It also turned out the AsiaTech engine was quite thirsty, resulting in Verstappen and Bernoldi often having to take two refuelling stops compared to their rivals' one. Coughlan claimed that their smaller fuel tank cost the team several points during the season.
The team also struggled with their traction control system and the car's aerodynamic balance, making it difficult to make a big impression at any circuit. The car's breakdown in its first lap of its shakedown at a damp Silverstone on 2 February may have been an early sign. Although smoke in that lap was later found to be caused by a heat shield touching an engine exhaust pipe, it immediately gave a bad impression. At the time Verstappen did the shakedown, the team already announced the replacement of respected racer Pedro De La Rosa by Enrique Bernoldi, while also admitting that Repsol left the team as a sponsor. Rumours that Orange was also leaving proved to be untrue as the team ran its car with Orange labels at each race.
The technical issues however resulted in a poor 10th place in the constructors standings, only staying ahead of Minardi thanks to a single point scored at Austria. Rather than an improvement, the A22 was, as it would later appear, the beginning of the end, and one but the last Arrows to be designed.
Specifications
Chassis:
A22 Arrows manufactured Carbon Fibre Monocoque with crash resistant side laminates.Increased load rear roll structure.
Suspension:
Inboard operated independent suspension; Carbon Fibre wishbones with double tether restraint system both front and rear.
Steering:
Arrows rack and pinion with power steering option.
Cooling system:
Separate oil and water radiators
Transmission:
Arrows multi speed, semi automatic inline configuration. Carbon Fibre maincase and rear impact structure.
Clutch:
Arrows Carbon multiplate
Brakes:
Single 6 pot calipers front and rear
Gearbox:
Arrows Carbon Fibre
Gear Selection:
Electro-hydraulic
Electronics:
Arrows / PI Sigma
Fuel system:
Arrows / ATL
Drivers Seat:
Arrows carbon fibre
Steering Wheel:
Arrows
Cockpit Instrumentation:
Arrows Data Display
Extinguisher System:
Arrows single bottle system
Wheels:
One piece Magnesium 13 x 12 front, 13 x 13.7 rear
Tyres:
Bridgestone
Weight:
600kg including driver and camera(s) or ballast
Dimensions:
Front Track : 1465mm
Rear Track: 1410mm
Wheelbase: 2995mm
Overall car length: 4430mm
Height: 1000mm
Width: 1798mm
Engine
Type: Aluminum Alloy, Asiatech FB02 72° V10 (Rebadged Peugeot V10)
Engine valvetrain: DOHC, 4 Valves per Cyl w/Pneumatic Operation
Displacement: 3000 cc
Power: 805 hp
Weight: 108 kg / 120 kg including exhaust, clutch and electronics
---
---