Super Aguri SA05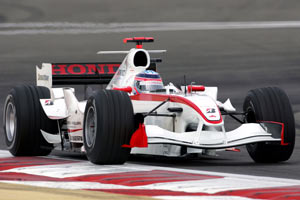 Active: 2006 - 19-07-2006
Team: Super Aguri F1

Designer: Mike CoughlanDrivers: Takuma Sato (21), Yuji Ide/Franck Montagny (22)
The SA05 is the first car of Super Aguri to enter the Formula One championship. As the team came into play rather late there was not enough time to have the SA06 finished by the beginning of 2006. Therefore the first few races are completed by the SA05, a modified version of the Arrows A23. That Arrows was designed by Mike Coughlan and was the first car with such an elaborate twin keel front suspension design. As Arrows went down into debts that year, the cars, equipment and factory was free to buy. In order to kick start their campaign, Aguri Suzuki bought the remains of the team to start Super Aguri F1. The main changes to the old A23 are changes to the aerodynamics to comply with 2006 regulations and the V8 engine which is a whole lot smaller than the Cosworth V10 that used to be in the original A23. The sidepods hence became smaller and more efficient. Despite these updates, the car is by far the slowest of the pack.
Specifications
Official Car Name:
SA05
Chassis construction:
Moulded carbon fibre and honeycomb composite construction incorporating front and side composite impact structures. Integral roll protection structures. Fully enclosed fuel cell.
Bodywork construction:
Composite one piece side pod and engine cover, separate carbon floor section, structural composite nose box and composite wings.
Front suspension:
Wishbones, pushrod operated torsion bars and dampers. Mechanical anti-roll bar.
Rear suspension:
Wishbones, pushrod operated coil springs and dampers. Mechanical anti-roll bar.
Dampers:
Ohlins
Wheels:
BBS
Tyres:
Bridgestone
Brakes:
AP Racing Calipers, Hitco material
Steering:
SAF1 power assisted
Steering wheel:
SAF1 specification and composite construction
Drivers seat:
Driver specific carbon composite
Seat belts:
TAKATA
Fuel cell:
ATL Kelvar reinforced to SAF1 specification
Battery:
2.5 Ah lead acid
Instrumentation:
SAF1 specification
Transmission:
SAF1 carbon composite maincase. 7 speed semi-automatic electro hydraulically controlled Clutch Sachs
Dimensions
Wheelbase: 3100mm
Front track: 1472mm
Rear track: 1422mm
Overall length: 4666mm
Overall height: 950mm
Overall width: 1800mm
Overall weight: 600kg including driver and camera
Engine specifications
Engine designation: Honda RA806E
Cylinders:90° V8
Capacity: 2398cc
Weight: 95kg
Maximum power: Over 700 bhp
Maximum revs: Over 19,000 rpm
Valve train: Valve train 4 valves per cylinder, pneumatic valve system
Injection system: Honda PGM-FI
Throttle system: Electro hydraulically-operated system
Ignition system: Honda PGM-IG
Spark Plugs: NGK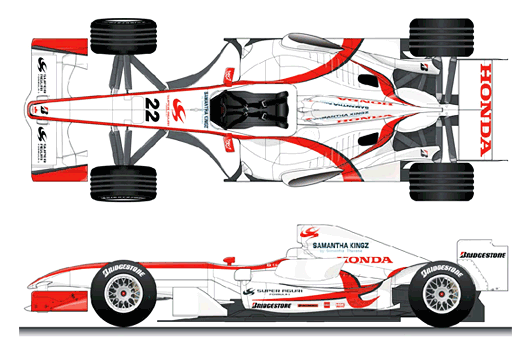 ---
---