Williams FW30 Toyota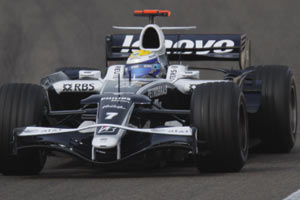 Active: 2008
Team: Williams F1

Designers: Sam Michael (TD), Jon Tomlinson (CA)
Drivers: Nico Rosberg (7), Kazuki Nakajima (8)
The AT&T Williams team's 2008 season race car, the Williams Toyota FW30, took to the track for the first time at the Valencia circuit in Southern Spain on Monday 21st January. The English team also opted against a costly launch but instead just had a short photo shoot at the shakedown. It did however brighten up winter testing by showing off 6 different liveries, all pointing to the successes and aims of the Williams racing team.
The FW30 itself represents a clear engineering philosophy of iteration and progressive development from the competitive and reliable platform of last season's Williams FW29. The team's Technical Director, Sam Michael explained: "With four years of regulation stability, we have a good basis to be progressive about the development of this season's car. With a good reliability record last year, we have been able to build on this quality while also turning some of our attention to clear performance objectives."
With an established technical team, the car is the product of a stable engineering base as well as settled regulations and for the first time since 2004, continuity of engine supplier with Toyota meaning that drivetrain installation has not been a resource-demanding aspect of the design process. With 8,000 mechanical releases and 35,000 manhours of design time, it is remarkable to consider that much of this work will be rendered obsolete in the next eight to twelve months.
The car retains the zero keel and dual pillar rear wing of its predecessor, with notable visual changes including a three plane front wing, increased sidepod top cooling louvres in view of the altered orientation of the water radiators, the sidepod and side impact sails and the increased cockpit sides for compliance with the new driver safety requirements.
"Our focus has been on performance as well as refining our packaging and weight distribution. We are designing a tidier car with a higher standard of build quality. The FW30 should represent a good step forward when all of the many small areas of attention and improvement are brought together in the overall package," said Michael.
Prior to the roll-out of the FW30, the team has also spent considerable time and made good headway in attending to a number of the other regulation changes, such as the integration of a standard ECU and the outlawing of traction control. As much as a busy winter for mechanical designers and CFD aerodynamicists, specialist code and software engineers have been busy re-writing strategies that will govern the management of the car's main components, from the new seamless shift gearbox to the differentials and engine. The FW30 is also biofuel compliant in order to meet the new season requirement that all race fuels contain 5.75% biomatter. Having worked in tandem with its fuel partner, Petrobras, the team was the first to use biofuel as part of a Formula One demonstration run in downtown Rio de Janeiro last October.
Specifications
Chassis construction: Monocoque construction fabricated from carbon aramid epoxy and honeycomb composite structure, surpassing FIA impact and strength requirements
Front suspension: Carbon fibre double wishbone arrangement, with composite toelink and pushrod activated torsion springs
Rear suspension: Double wishbone and pushrod activated torsion springs and rockers
Transmission: WilliamsF1 seven speed seamless sequential semi-automatic shift plus reverse gear in a aluminium maincase, gear selection electro-hydraulically actuated
Clutch: AP Carbon plate
Dampers: WilliamsF1
Wheels: RAYS forged magnesium
Tyres: Bridgestone Potenza, F 350mm wide, R 375mm wide
Brake system: 6 piston AP calipers all round, Carbon Industrie carbon discs and pads
Steering: WilliamsF1 power assisted rack and pinion
Fuel system: ATL Kevlar-reinforced rubber bladder
Electronic systems:MES
Fuel: Fuel by Petrobras
Cooling system: Marston oil, water, and gearbox radiators
Cockpit: Driver six point safety harness with 75mm shoulder straps & HANS system, removable anatomically formed carbon fibre seat covered in Alcantara. Safety Devices extinguisher systems
Dimensions & weight
Weight: 605kg with driver, camera and ballast
Wheelbase: 3100mm
Overall length: 4500mm
Overall height: 950mm
Overall width: 1800mm
Engine
Designation: Toyota 2.4L V8, 90° V angle
Valve train: Pneumatically engaged
Ignition: Toyota
Spark plugs: ND
Engine materials: Block and pistons in aluminium, crankshaft in steel billet, connecting rods in titanium
---
---